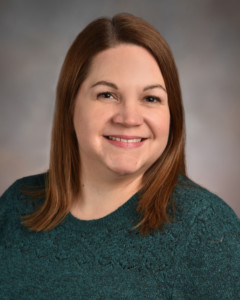 A native of Hagerstown, I grew up less than a ¼ mile from the Henry County line, so New Castle and the surrounding communities were very familiar to me.  As a kid, my family often came to New Castle for shopping and dining, and some of my earliest memories involve the old JC Penney store downtown, as well as Bud Alexander's Cafeteria on Highway 3.  In high school, my friends and I frequented the Castle Theatre and SkyVue Drive-In.  Even though these businesses are gone, they are very much a part of my earliest experiences.
I graduated from IU East with a BA in English and soon after took a position as the Administrative Coordinator for the United Way of Whitewater Valley in Richmond.  This was my first exposure to the nonprofit world and it opened my eyes to just how much need there is in our communities and how tirelessly nonprofit staff work to make sure those needs are being addressed.
After my time there, I worked in the public education system for 12 years.  I first served in a payroll/benefits position with Nettle Creek School Corporation in Hagerstown before accepting a similar position for Charles A. Beard Schools in Knightstown.  Eventually, I returned to the nonprofit sector when I became the Director of Trust Operations for the East Central Indiana School Trust.
When I learned of an open position at the Foundation, I applied because I wanted a career that was more meaningful and provided me the opportunity to utilize the skills I had developed while giving back to the community.  The foundation seemed like the perfect opportunity to do just that and I began my employment as the Director of Grants and Special Projects in September 2019. I enjoy working at the Foundation because the staff and volunteers are focused on making Henry County a great place to live, and it's inspiring to see just how hard our nonprofits work to make that a reality.  I hope I can help them better meet their needs by being their liaison to both our donors and the entire community.
My husband, Matt, and I have been married 13 years.  We share our home with our two dogs, Duke and Little Rose, and we enjoy spending as much time outdoors as possible.
Fun fact:  I am a huge Annie Oakley fan.  I read a biography on her in elementary school and have loved reading about her ever since.  To me, she is one of the most fascinating characters in all of American history.  Despite the hardships of her childhood, she used her skills and talents to become the most successful and widely-recognized woman of her time, and throughout it all, she remained humble and charitable, even until her death.  She was not only a sharpshooter, but a sharp businesswoman who navigated a male-dominated profession with perfect poise, while remaining true to herself and her faith.