In the fall of 2019 the Cardinal Greenway was awarded a grant from the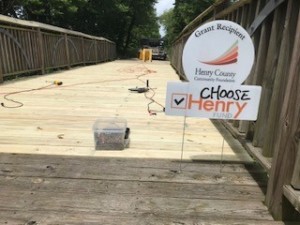 Choose Henry Flex Fund to perform some repairs on the bridge just north of the Henry County trailhead of the Greenway. The bridge was showing its age and posed a safety hazard due to a damaged and deteriorating deck surface. There were old, rotted boards that were in need of replacement due to exposure to nature and the elements 24/7. Over the years, we had repaired and replaced individual boards as needed but the overall condition of the bridge warranted a full replacement.
We received funding to purchase the needed supplies and materials, including boards and hardware, to replace the entire bridge surface. Right about the time we were hoping to do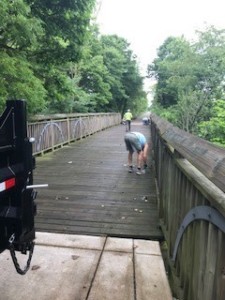 the project—the Coronavirus hit. For safety reasons, we were unable to gather our maintenance team and volunteers, which would comprise a decent sized group of people.
We were finally able to undertake the project in July with a smaller than originally planned team who observed safety protocols. Because of the modified conditions, it took three different work sessions but the project was completed over a period of two weeks. We were able to replace the entire bridge surface, nearly two hundred boards, to restore the bridge to its original condition and provide a much safer product for our trail users.
Between the weather and Covid-19 we did have some challenges getting the work scheduled and completed. But, the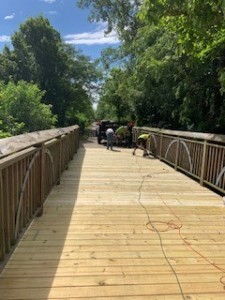 finished product is a significant improvement and addressed a considerable safety issue so we are grateful for the support of the Foundation for the project and the Cardinal Greenway.