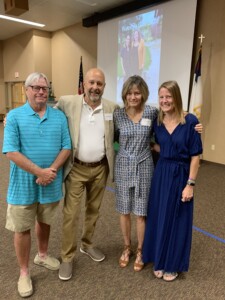 We are excited to announce the Judy Melton award recipient for 2023… Lisa Pfenninger!
Lisa has been a volunteer with the Foundation since the mid 1990s. She has served on the Grants Committee, going above and beyond to help our local nonprofits. She enjoys meeting with the organizations and helping them find more connections and grant opportunities.
Lisa serves the community in many ways through the Art Association of Henry County,  the New Castle-Henry County Animal Shelter, the New Castle-Henry County Public Library, Henry County United Fund, the Christian Love Center, and her church.
Lisa and her husband, Steve, have two daughters, Jan (Josh) Estelle and Lauren (Dave) Dragoni, along with four grandchildren. Since 1989, Steve and Lisa Pfenninger have made 250 donations to the Foundation to support various funds.
"I was totally unaware and overwhelmed," Pfenninger said of her recognition. "My parents worked under the radar in the community their whole lives and I guess that's what was instilled in me. I've met so many incredible, dedicated people in Henry County. I've forged lifelong friendships with people I've met through the Foundation. Community is so important in every aspect of life. I'm blessed to be a part of this community. It just makes my heart burst."