2019 Spring Scholarships Open

: January 1, 2019
Deadline

: Friday, March 1, 2019 at 5 PM

Congratulations on taking the first steps towards your higher education.  Our scholarship program is made of separate funds created by donors who establish specific criteria for the scholarships.  Each scholarship has its own purpose, selection and eligibility criteria.  All scholarships are competitive and will be selected based on the pool of qualified applicants.  Scholarship awards are paid directly to the educational institutions where the student is enrolled.

Important Note: All scholarship applications must be submitted online via the application website, Community Force.  Please use our Scholarship Search to determine your eligibility for scholarships prior to applying. HCCF's spring scholarship cycle will open for high school seniors and current college students on January 1, 2019. Applications must be submitted on Friday, March 1, 2019 by 5 pm.

Interested in viewing the HCCF Scholarship Brochure online?
Click the image below! You can also click here to view the brochure.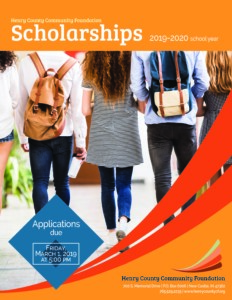 In helping you prepare for your finances, below is an estimated award key.  Be advised, small fluctuations may occur with award amounts based on investments.
Scholarship Award Range Key:
$100-$499 = $
$500-$999 = $$
$1000 and over =$$$
Students can check out our FAQ, or call 765-529-2235.