By Amber Estelle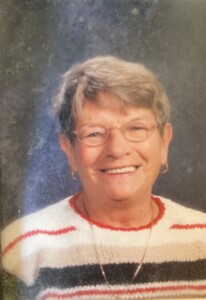 Katie McClure participated in several things during her 75 years on this earth. She was a life-long New Castle resident and a graduate of New Castle High School. She also enjoyed being a member of the First United Methodist Church. Katie worked as a teller at First National Bank, secretary for Modernfold Industries and Beall's Clothing Store, and a bookkeeper for McClure's Refrigeration, which was owned and operated by her husband, Carl. But perhaps one of her favorite roles was the position of Foster Grandparent with New Castle Schools.
Katie's daughter, Patty Broyles, describes her mom, "She was young and fun, very active in her church, and she wanted to do something for young people. She lived by herself in Sunnyside after my dad passed. She said to me, 'I want to do something!' So, she started working as a foster grandparent. She worked at Greenstreet and Sunnyside."
Katie thrived in her time with young students and loved connecting with the kids. She enjoyed it so much that she decided to include her family in it with her. Her granddaughter, Mica White, recalls, "I would often go read books to her classes while I was still in college to be a teacher. She was such an influence in my life. She always encouraged us to work hard and take care of our loved ones." Now, Mica teaches second grade at Westwood Elementary School.
Katie was well-known as an influential foster grandparent. Patty has fond memories of taking her mother to the grocery store weekly and hearing children shouting "Grandma!" and greeting them with excitement.
In 2007, Katie was diagnosed with lung cancer. "But she hung right in there. My mom always wanted that smile. She wanted to receive a smile, but she wanted to give a smile. She smiled through lung cancer. Hospice said it is always such a sad time knowing a patient won't be coming through it, but she was always glad to see them, always had a smile on her face, and was never depressed," shares Patty.
When Katie's husband, Carl, passed away in 1997, their family started a scholarship with the Henry County Community Foundation in his memory, the Carl McClure Memorial Scholarship. Patty enjoys being able to share that with the community. "It's such an honor to give his scholarship out. Every year it's a great way to remember him and for his legacy to live on."
This time, Patty wanted to do something different, and she wanted to do it while her mom was still with her. So, they started the Grandma Katie McClure Reading Endowment Fund. This fund aims to provide the support needed to increase literacy in elementary students of Henry County.
Patty likes to encourage people who have elderly parents to honor them now and include them in giving back. Grandma Katie was able to be a part of the first day that a class received the fund. She passed away within weeks of that experience. Patty remembers dearly, "That day will be with me forever. It was such a good feeling to be able to give that away with her there. She enjoyed it so much and was so proud of what she had done for the community."
The process begins with choosing a teacher at an elementary school. Each year, the award recipient is chosen around Mother's Day in memory of Patty's mother, who inspired it. It has been given to Parker, Sunnyside, Building Blocks, Westwood, and Wilbur Wright. The hope is that all local elementary schools can be reached through this fund over the years.
The teacher then receives an allotted amount and plans what to do with the funding. Some have chosen group activities. Some have picked out books to share with the classroom. One kindergarten class at Parker Elementary School received the award, and the class went on a field trip to Kim Gibson's paint party parlor. They each painted a camping scene related to the book the teacher had purchased with the fund money.
The 2020 award was granted to a kindergarten class at Westwood Elementary School. Little did the Foundation know that this class included Grandma Katie's great-granddaughter and namesake, Harper Kate White.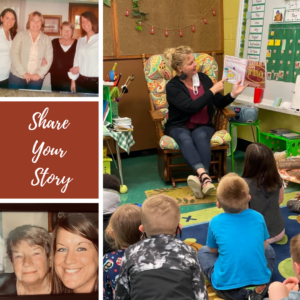 The class picked out two local books, NC Love Me and Your Hair, by Westwood parent and active community member Brittany Dicken. During circle time in the classroom, the teacher read both of the books to the kids, and they enjoyed hearing about places they know and love in New Castle.
As the city parks board president, Patty appreciated Brittany's book because NC Love Me involves the city parks. She shares, "the grandkids love Baker Park. So, I enjoyed that the kids could be a part of that through Brittany's book in the classroom."
Even though Harper Kate was never able to meet her great-grandma, she knows about her. She felt excited to be a part of it all. Harper's mom, Mica, notes, "Harper felt very special last year when her classmates benefited from her Great-Grandma Katie's reading endowment. It was certainly a full-circle moment. It's heartwarming that even though they never met, my grandma can have an impact on Harper and her classmates. I know my Grandma Katie would be so very proud of Harper."
Mica was always very close with her grandma, and she appreciates the hard work of her mom to remember Grandma Katie, "Grandma would be so proud of my mom for carrying on her legacy.  It has been a blessing to watch my mom find joy in helping others in memory of my grandma.  So many teachers and students have benefited from this endowment.  I can't wait to see what the future brings."
Share Your Story through a Field of Interest Fund.
You can establish a Field of Interest Fund to support a general cause that is important to you.
How does it work?
• Instead of choosing one organization to support, the annual grants will support a cause through various organizations (Ex. children, sports, senior citizens, or specific needs within the community).
• Establish your Field of Interest Fund with a minimum of $5,000.
• Gifts are invested and stewarded to provide annual grant dollars for the cause important to you.