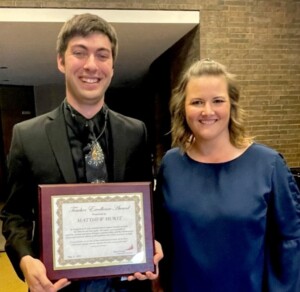 Henry County is full of great teachers who work hard to encourage students to reach their goals. At times, Teachers could use a boost of encouragement too!
That's why anonymous donors created the Teacher Excellence Award with the Henry County Community Foundation. Inspired by Danny and Patty Danielson's commitment to the community, these donors decided to add something positive to Henry County as well.
Nominations are now open for this uplifting award. The ideal candidate is inspiring, creative, committed, enduring, and encouraging. While that describes many of our local teachers, consider taking the time to nominate someone you know that is making a difference in the lives of local kids.
The 2023 Teacher Excellence Award winner will join a host of inspiring recipients from years past. These exceptional educators include Debra Hicks, Judy Hubbard, Stephanie DeLoughery, Rick Penn, April Isaacs, Tracy Young, Art Edinger, Carissa Brammer, Nancy Wadman, Cheri Estelle, Shanna Smucker, Lou Nell Richardson, Angela Miller, Emily Whaley, Angie Talbott, Michelle Fries, an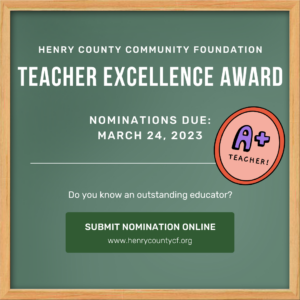 d Matthew Hurst.
Last year's award winner, Matthew Hurst, grew up in Henry County and found solace in the music department. After completing his degree in Music Education and spending a few years teaching in Milan, Indiana, Matthew was given the opportunity to return home and teach at New Castle Schools.
His years of dedication and care with New Castle choirs have not gone unnoticed. One of the anonymous individuals who nominated him for the award summed up his influence, "Everyone can't be a star, but when you have a teacher and music director like Mr. Hurst, everyone can be somebody. That has a ripple effect for a better community and society."
Matthew sincerely appreciates the recognition and hopes to continue watching his students grow. He shared, "I am honored and deeply humbled by the award. I push my students daily to be better individual singers, and together be a better choir than the day before. 'It's truly about the growth. The kids grow in confidence, grow in musical successes, and in turn, the program grows. But it's the little daily victories that give me the most joy. Perhaps someday, one of my own students will earn this award as well!"
Any current full-time teacher in a Henry County public school can be nominated for the award. Parents, students, peers, community citizens, or anyone who has direct experience with the teacher can make the nomination. To complete the nomination form, please visit our website – www.henrycountycf.org. Nominations are due on March 24.
For questions or additional assistance, don't hesitate to get in touch with the office at 765.529.2235