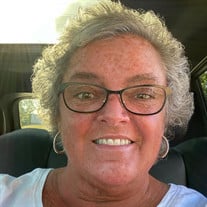 Stacey Lynn Crane, 58, of New Castle, passed away early Thursday morning, May 4, 2023, at IU Health Ball Memorial Hospital, with family by her side, following a 3 ½ year battle with Triple Negative Breast Cancer.
Stacey was born July 27, 1964, in New Castle to her parents, the late Wayne K. Kollmeyer; and Julie Bundy.
She leaves to cherish her memory, her husband of nearly 37 years, Kit C. Dean Crane of New Castle, whom she married June 14, 1986; her and Kit's daughters, Cara Ann Crane of Washington, D.C., Emily Brooke Crane, of Nashville, Tennessee; and Grandpup, Joey, also of Nashville, Tennessee, survive. Stacey is also survived by her parents, Byron Gene and Julie Ann Bundy of New Castle, Indiana; as well as a brother, Kurt (Dana) Kollmeyer, of Palatine, Illinois; and sisters-in-law, Linda Jo Buggle (Bob) of Bradenton, Florida, and Cynthia Jean Willyard of New Castle, Indiana; as well as many nieces and nephews.
In addition to her father, Wayne, she was preceded in death by a brother, Kristopher W. Kollmeyer (2020) and two brothers-in-law, Anthony Dale "Tony" Crane (2006) and Richard C. Willyard (2020).
A 1982 graduate of New Castle Chrysler, Stacey earned her Bachelor of Science degree in Elementary Education in 1986 and her Master of Arts in Education degree in 2002: both from Ball State University. Stacey's 32-year teaching career in New Castle Community School Corporation commenced in 1986 and concluded in 2019 upon her retirement. Her first-year teaching was in the Third Grade at Eastwood Elementary School and her remaining 31 years in First Grade at Parker Elementary School. During her career, she mentored several teachers and hosted many Ball State University student teachers. Stacey had a positive impact on thousands of children and their families.
Stacey was a faithful member of First United Methodist Church and served on the Finance Committee and the Administrative Counsel. For several years, she was Chair of the Administrative Council. Stacey also held positions in the Church District and Conference. She also enjoyed sharing her voice by singing in the Praise Team during church services.
Stacey enjoyed watching many sports. She enjoyed attending Indianapolis Colts games where she was a season ticket holder. She also attended Cincinnati Reds baseball games and regularly followed the team's television broadcasts.
She enjoyed spending time with Kit, Cara, Emily and Joey. She enjoyed traveling; particularly to any location with plenty of sun, water, and beaches. Sanibel Island, Florida was a perennial favorite.
Visitation will be from 4:00PM to 8:00PM, Monday, May 8, 2023 at Sproles Family Funeral Home in New Castle. Memorial services will be at First United Methodist Church, Tuesday, May 9, 2023 at 11:00AM with calling one (1) hour before commencing at 10:00AM with Reverend Michelle White officiating. Cremation and private interment will follow at a later date.
In lieu of flowers, contributions may be made in memory of Stacey to the: Kit and Stacey Crane Scholarship Fund, c/o Henry County Community Foundation, P.O. Box 6006, New Castle, IN 47362 or you may donate online by Clicking Here.
Stacey and her family would like to thank all the doctors, nurses and support staff who have treated her. Stacey and her family are particularly grateful for Jonathan L. Berkowitz, MD, PhD, with IU Health Ball Memorial Cancer Center and Forest Ridge Medical Pavilion.
"I have fought the good fight, I have finished the race, I have kept the faith. Now there is in store for me the crown of righteousness, which the Lord, the righteous judge, will award to me on that day, and not only to me, but also to all who have longed for His appearing." 2 Timothy 4:7-8
The Sproles family and staff are honored to serve the family of Stacey Lynn Crane.
To send flowers or a memorial gift to the family of Stacey Lynn Crane please visit our Sympathy Store.