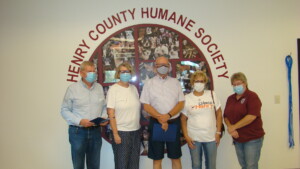 As a Chrysler worker and a third grade teacher at Tri, James and Carolyn Garvin spent most of their lives in New Castle. They grew up in Henry County, married, had children, attended First United Methodist Church, joined the Kiwanis Club, volunteered with Habitat for Humanity, and supported the Henry County Community Foundation.
James and Carolyn had a heart for this community and wanted to continue giving back. The Foundation was one of the ways they were able to do that. They started a designated fund to continually give to the organizations they cared about deeply. Their son, Stu Garvin, explained, "It was their hope, and ours as well, to contribute to New Castle."
One of the organizations they chose to support is the Henry County Humane Society Animal Shelter. The Garvin family has been passionate about helping animals. Stu shared, "Our whole family has dogs. We're all animal lovers. When Mom retired, they gave a ton of stuff to the animal shelter. Then, when they both had passed away, we contributed to the animal shelter and had a plaque placed in their names."
The Garvin children, Stu, Jan, and Mark, grew up in Henry County and graduated from New Castle High School. They have all since moved to other parts of the United States, but they continue to visit each year. During one of their visits to James and Carolyn's gravesite, they decided to stop by the animal shelter and see the plaque. Stu described their time at the shelter, "It was unbelievable how nice it was up front, but the dog area was in serious need of upgrades. I went to them and asked what they needed. We learned that they wanted to do some work but hadn't been able to. I knew Mom and Dad would want us to help."
Initially, the Garvin children had hoped to be able to fully fund the project through their parents' fund. When the expenses exceeded, they decided to pool their money together and cover the costs. Along the way, the shelter found more issues that needed to be addressed with their building and learned that it would take more funding to complete the necessary upgrades. Fro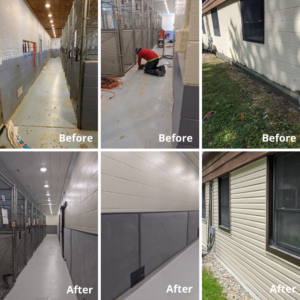 m there, they applied for a grant through the Foundation to help finish the project. It all finally came together.
The work was done in phases throughout the year 2020. They received new lights, replacement windows, freshly painted floors, upgraded air-flow system, and sound-dampening foam for the walls. The foundation was repaired, a concrete curb was put into place, a French drain was installed, and vinyl siding was added.
The Garvin siblings were able to come and see the renovations together, and they were pleased with all of the improvements for the animals, the staff, and everyone that experiences the animal shelter.
Establishing a Designated Fund provides a wonderful way to give back to one or more specific organizations that have touched your life.
How does it work?
• You identify the organization(s) you wish to benefit.
• You make a gift to the HCCF ($5,000 minimum made in one gift or over 5 years).
• You select a name for your fund.
• Gifts are invested and stewarded to provide annual grants to your designee(s).