By: Amber Estelle
When Melissa Millikan was looking into starting a fund with the Foundation, she knew she wanted to find a way to help kids in the community.
Though she had been involved with several projects over the years, most of her activities revolved around her husband, Nathan's, position as a cardiologist. She wanted to make something her own. "So, I came up with the idea of helping children who had medical issues."  She continued, "When I was younger, I had kidney issues and was in and out of the hospital for a few years. I've had a heart for kiddos that have disabilities." With that passion in mind, she set out to find a way to help kids have great experiences like attending camps and therapeutic endeavors.
So, the Millikan family started the All 4 Kids fund. "We have four children who are pretty healthy, and we f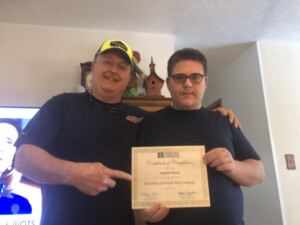 eel blessed by that. This is a way to give back. The All 4 Kids is representative of our kids. We put our own money in, and there are people along the way who continue to donate to it. We want to see it grow and continue to bless kiddos," explained Melissa.
Blessing kids in the community is exactly what this fund is continuing to do.
Edith Ford reached out about something that would be helpful for her grandson. She shared, "My son, Matthew, is hearing impaired. His son, Andrew, is able to communicate with him through sign language. But he needed his sign language to be cleaned up a little bit. He needed to be able to speak a little bit more clearly. It's like a second language. We wanted him to be able to communicate with his dad and hopefully be able to interpret one day."
The Ford family found out about a class being offered at Ivy Tech that would be a step toward being able to become certified as an interpreter. In order to complete the class, they needed some financial help to cover the costs. The Foundation saw this as a great opportunity to use the All 4 Kids fund. When Melissa was contacted about this plan of action for her fund, she was thrilled. She expressed, "I thought it was very sweet. It really tugged at my heart."
Despite the changing situation with covid, Andrew was able to complete the course through Ivy Tech. He attended most of the class sessions in person. As the world shifted through the pandemic, the class finished with videos and emailed assignments.
The Ford family is already seeing the benefits of what Andrew learned through this course. He uses FaceTime to help communicate with doctors for his father, and he goes to the grocery to help with purchases and needs there. Andrew shared, "This class has shown me new signs. Some of them were different then what I had learned because it evolved over time. It helped me learn more than what my dad was able to teach me. It has made a difference. I'm able to sign with my father more instead of having to spell some  things out. I have more signs to use!"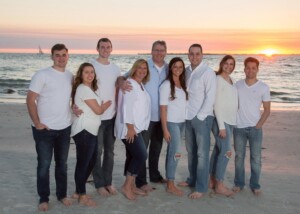 Establish a Field of Interest Fund to support a general cause important to you.  
How does it work?          
Instead of choosing one organization to support, the annual grants will support a cause through various organizations (Ex. children, sports, senior citizens, or specific needs within the community).
Establish your Field of Interest fund with a minimum of $5,000.
Gifts are invested and stewarded to provide annual grant dollars for the cause important to you.