April is National Volunteer Month and an opportunity to recognize volunteers and the impact they make through their service to build stronger communities and transform our world. The Henry County Community Foundation is grateful for local citizens who are devoting their time, talent, and treasure to make a difference in Henry County.  We want to recognize just a few of those who are working with us to achieve our mission to help where the needs are greatest. Visit our Facebook page to learn more about our wonderful volunteers.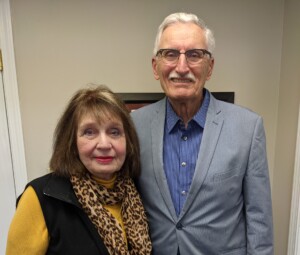 Don and Betty Geozeff moved to New Castle to learn more about vocational education. Planning to stay for a few years, learn, and then move on, they wanted to buy a house with great resale value. They picked a nice house close to Riley Elementary school and within walking distance to the playground. Now, 49 years later, they're still in that same house.
Plans changed for the Geozeffs when they fell in love with the community in Henry County. "It shows how much we care about the community that we stayed," shared Don.  They hadn't just found a house, they found a home in Henry County. Betty echoed his sentiment, "I hope everybody realizes what a great community this is. We take care of each other. We love this community!"
Throughout their years here, Don has been a teacher, assistant principal, and principal for the New Castle school system. Betty worked within the schools as well, spending some of her time with South Henry schools. Betty shared, "We had four young children when we came. They all went to Riley school and were thrilled with the education there. So, I became a part of the school system, too." They quickly became involved with the community and loved every minute of it.
In 1987, they were faced with the unexpected and tragic death of their 21 year old son, Gregory. Don and Betty took their grief and turned it into something positive for the students in the community that they love. Betty expressed, "We set up a scholarship for him at the Henry County Community Foundation. We enjoy working on the scholarship. We have a wonderful committee that chooses the recipient each year. They always do a good job with that."
Since then, they've become more and more involved in things at the Henry County Community Foundation. "We've both been involved with United Fund and United Way as a part of their allocations committee in the past. One day, I was a meeting at the Foundation and heard about their work with grants. We wanted to get back into it," Don stated.
They've both enjoyed their time working with the grants committee and supporting the hardworking nonprofits of Henry County. Don shared, "It's so enlightening and interesting to go out and do interviews. We always find out about really good people here that need funding and are enthusiastic about their work."
Don went on to say, "We owe so much to the city and the county. There's a lot of things, but the Henry County Community Foundation is number one in how we can pay back for all of the good things the community has done for us and our family. The more of these organizations that we get involved with by going out and doing the grants, the more you feel a part of the community and you learn more about the community. It's a wonderful experience to do that and try to help the Foundation. It makes you feel like you're a part of something bigger than yourself."