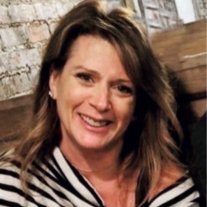 Amy Hembree McKown, 48, of New Castle, passed away unexpectedly on the afternoon of Saturday, January 11, 2020, at Reid Hospital in Richmond.
She was born July 29, 1971 in New Castle, Indiana, the eldest daughter of Jim and Brenda (Poynter) Hembree.
Amy was always smiling and the most easy-going, positive, and fun-loving person. She loved life and the people in it more than anything.
She graduated in 1989 from Tri High School and attended Ball State University where she studied fashion merchandising.
Amy married the love of her life, Mike McKown, on March 21, 1998. She and Mike co-owned McKown Studio and Galleries and McKown Properties, LLC. Amy was an entrepreneur; following her 20 years at McKown Studio, she opened her own children's resale boutique, Kids on Main.
Amy was the ultimate caregiver and the captain of her family. She loved spending time with her family at their lake home in Brown County, watching her son play baseball, attending concerts with her friends, and being out in the sun – especially on the water.
She loved working out at Sworn Strength and was a self-proclaimed professional shopper, something her and her daughter did often.
In addition to her parents of Spiceland, those left to cherish Amy's memory include her husband of 21 years, Mike McKown; her daughter, Addison McKown, a junior at Butler University; her son, Blake McKown, a junior at New Castle High School; her sister, Melissa Hembree Mondrush and brother-in-law, Steve Mondrush, of New Castle; nephews and niece, Andrew, Sam, Owen, and Emma Mondrush who all attend Tri Jr.-Sr. High School; mother-in-law, Jane McKown of New Castle, and father-in-law, Steve McKown of Ruskin, FL.
A service honoring Amy's beautiful life will be held at 11:00 am Wednesday, January 15, 2020 at Sproles Family Funeral Home in New Castle with Pastor Eric Haler officiating. Burial will follow in South Mound Cemetery.
Friends may call from 3 – 8 pm on Tuesday at the funeral home.
Reflecting Amy's love of kids, the family requests memorial contributions be offered to the Henry County Community Foundation – Amy McKown Memorial Scholarship,  www.henrycountycf.org/giving/donate-online; TRU Harbor, Youth Opportunity Center, www.yocinc.org/donate or Believe and Achieve Mentoring of Henry County – BAM at www.bamhenrycounty.com.
You may offer the family a personal condolence at www.sprolesfamilycares.com.
The Sproles family and staff are honored to serve the family of Amy Hembree McKown.