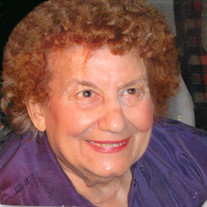 Angeline D. "Angie" Mattern, 101, of New Castle, passed away early on the morning of Thursday, July 19, 2018 at Henry Community Health.
She was born on March 8, 1917 in Indianapolis, Indiana, a daughter of the late Amelia (Panunzio) and Francesco "Frank" Grimaldi following their immigration to the United States from Italy.
Following graduating from High School, Angie became a beautician. She married the love of her life, Robert Mattern, in 1946, and then moved to New Castle. Angie assisted her husband in their business, Keener Shoe Repair, on Race Street for many years, until his death in 1975. She attended St. Anne Catholic and enjoyed reading and crocheting.
Those left to cherish Angie's memory include her two children, Martha (husband: Philip) Rinnander of West Chester, PA; a son, Michael Mattern of Indianapolis; three grandchildren, Kristen (husband: Mike) Lukach, Philip (wife: Mara) Rinnander, and Jennifer (husband: David) Divalerio; six great-grandchildren; a sister, Assunta "Sunny" Kinnaman of Indianapolis; several nieces and nephews and her long-time best friend, Rulon Sutherland.
She was preceded by her husband, Robert Mattern; two sisters, Lucy Grimaldi and Anita Sumner, and a brother, Guisseppe "Joe" Grimaldi.
Funeral services will be held at 1:00 pm Monday, July 23, 2018, at Sproles Family Funeral Home with Father John Hall officiating. Burial will follow in South Mound Cemetery.
Friends may call from 11:00 am until the time of service Monday at the funeral home.
Memorial contributions may be offered to the Henry County Community Foundation Memorial Fund. You may send the family a personal condolence at www.sprolesfamilycares.com.