For nine years, the Henry County Community Foundation has hosted a grantmaking event for women in the community. The Women's Circle of Friends Grantmaking Gala is an opportunity for caring women to come together and support local nonprofit organizations.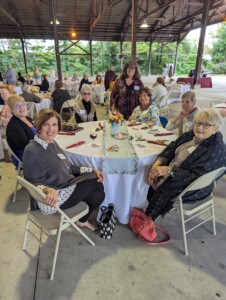 At the gala, members participate in an evening of philanthropy, food, and fun. With a minimum $50 registration fee, all of the proceeds go directly into grants for the evening.
In the months leading up to the event, nonprofit organizations are invited to apply to be presenters. A committee chooses the finalists, and those three groups attend the gala. There, they give a brief presentation about what their nonprofit does in Henry County. The women then vote, and the first-place organization receives half of the grant money with the other two splitting the rest.
In 2022, The Art Association of Henry County received the first-place grant. Executive Director, Vickie Bertram shared about the gift of the grant, "The Art Association of Henry County is grateful to the Women's Circle of Friends for the 2022 grant of $2121 donated to our 'Lift Up Light Up Henry County' fundraising campaign. The goal of this campaign was to replace the bases of the posts of the Arts Park Pavilion and to create a Holiday Light display in the Arts Park. Thanks to generous donors like the Women's Circle of Friends, both of these goals were achieved."
The second and third-place awards went to Henry County Young Life and Kennard Krusaders. Young Life director, Madison McGilliard found the grant to be helpful for carrying on their events, "The funding from the gala made it possible to put on our Young Life and WyldLife clubs for the semester! The money given to our organization was enough to pay for about 8 events for our middle school and high school kids which each had about 50 students in attendance!"
And Holly Lee of Kennard Krusaders was also able to put the grant funding to good use. "It allowed us to continue to serve the community area by working on the mobile unit, community events, and items needed to be refilled in our pantry."
This year, the Women's Gala will be held on September 12 at the Crossing on 38. Nonprofits are welcome to apply to present until July 31. The process is quick and simple with the potential for great benefits.
If you'd like to join us at this wonderful event, please call the office 765-529-2235. Official invitations will be arriving in the mail within the next couple of weeks.