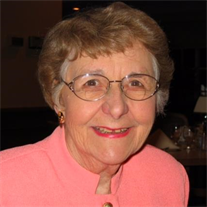 Betty Rae Ricke, 94, of New Castle, and formerly of Columbus, died on the afternoon of Wednesday, March 22, 2017 at Heritage House of New Castle.
She was born January 17, 1923 in San Antonio, Texas, the only child of the late Raymond and Ruby (Harvey) Davis.
Betty was a 1939 graduate of Thomas Jefferson High School in San Antonio, Texas where she was the Girl's Archery Champion. She attended Sullins Womens College in Virginia and was a 1943 graduate of Indiana University with a Bachelor's Degree in Sociology. Betty was a member of Kappa Kappa Gamma Sorority of IU. On January 25, 1947 she married the love of her life, Joseph O. Ricke. Betty was a member of First Presbyterian Church in Columbus where she served as a Deacon and Sunday School Teacher. She also attended St. Bartholomew Catholic Church. She was a former County Council Woman in Bartholomew County and a member of P.E.O., Daughters of the American Revolution and Tri Kappa where she served as secretary. She enjoyed golfing and was club champion at Harrison Lake in Columbus. Later in life she became an avid tennis player.
Betty moved to New Castle in 2009 to be near her daughter, Ann. She attended St. Anne Catholic Church and First United Methodist and had been a member of the Agenda Club in New Castle.
Those left to cherish Betty's memory include her son, Dr. Scott Ricke of San Diego; her daughter, Ann (husband: Dr. Wylie) McGlothlin of New Castle; two sisters-in-law, Carolyn Ricke of Columbus and Joan Coffman of Arvada, CO; three grandchildren, Andrew (Alison) McGlothin, Caspian, MI, Patrick McGlothlin (Meredith Molli) of Carnation, Washington and Alaina Ricke of Los Angeles, CA and several nieces and nephews.
Betty was preceded in death by her husband of 62 years, Joseph O. Ricke and a daughter, Sally Jane Ricke in 2013.
Funeral services will be held at 2:00 pm, Wednesday, March 29, 2017 at Sproles Family Funeral Home with the Reverend Dr. Clark E. Hobby officiating. Burial will be held privately at a later date in St. Joseph Cemetery in Shelbyville.
The family will receive friends from 12:00 pm until the time of service Wednesday at the funeral home.
In lieu of flowers, memorial contributions may be offered to the Wylie G. and J. Ann McGlothlin Designated Endowment Fund in care of the Henry County Community Foundation, 700 South Memorial Drive, New Castle, IN, 47362, to benefit Young Life and Big Brothers Big Sisters or the Lymphoma Research Foundation, 115 Broadway, Suite 1301, New York, NY 10006 or www.lymphoma.org.
You may send the family a personal condolence at www.sprolesfamilycares.com.
The Sproles family and staff are honored to serve the family of Betty Rae Ricke
Click here to donate to the Wylie G. and J. Ann McGlothlin Designated Endowment Fund