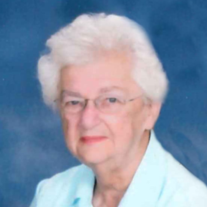 Beverly Ann Hankenhoff, of New Castle passed away March 24, 2019 at Henry Community Health. She was born September 11, 1933 in Daleville, IN to the late Kenneth and Elma (Richman) Partain.
She was a 1951 graduate of New Castle High School and received a bachelor's degree in 1954 and a master's degree in 1966 in education both from Ball State University. She taught at Union City and Mt. Summit and then at New Castle. Beverly had a total of 45 years in education; 43 of those years with New Castle and 31 of those years as Vocational Director. She designed and started the Vocational Program and was Chairman of the Board of CRADLES, which was part of the New Castle Vocational Program. Beverly started with 3 school corporations and 3 programs and grew to 8 schools and 21 programs under her directorship and had Adult Basic Education in 3 counties of which she started. She also started the education program at the Henry Youth Center. Under President Reagan she went to China for three weeks to study their education system.
She was a member of the First United Methodist Church, Phi Delta Kappa, Delta Pi Epsilon, New Castle Rotary, Indiana Association of Adult and Continuing Education, United Methodist Women, Chair of the Henry Adult Literacy Coalition, chair of First United Methodist Mission Commission, President of Henry County Retired Teachers Association and the Chair of Commission on Literacy. Beverly served on the board of Raintree Programs, Hope Initiative and past-chair of Friends of the Library. She was awarded the Kentucky Colonel and Sagamore of the Wabash. She was recently inducted in the Indiana Association of Area Districts Vocational Hall of Fame. She was awarded Citizen of the Year and was a torch bearer for the New Castle Bicentennial.
She is survived by her daughter, Candy Sneed of New Castle; son, Hurshel Hankenhoff of Rushville; grandchildren, Catelyn Sneed, Casey (Kim) Hankenhoff and Jon (Lauren) Hankenhoff; 5 great-grandchildren, Kiley, Courtney, Drake, Lainey and Porter Hankenhoff.In addition to her parents, she is preceded in death by her husband, Harold Hankenhoff in April 2003 and a daughter-in-law, Tammy Hankenhoff in June 2017.
Services will be at 11:00 a.m. Thursday, March 28, 2019 at the First United Methodist Church with Rev. Tom McGilliard officiating. Burial will follow in South Mound Cemetery, West Lawn Addition. Visitation will be from 4 to 8 p.m. Wednesday, March 27th at Hinsey-Brown Funeral Service in New Castle. In lieu of flowers memorial contributions may be sent to the Henry County United Fund, PO Box 6082, New Castle, IN 47362, Friends of the Library, 376 S. 15th St., New Castle, IN 47362 or New Castle Henry County Community Foundation Retired Teachers Fund, PO Box 6006, New Castle, IN 47362. You may express condolences or share a memory of Beverly at 
www.hinsey-brown.com
.