Billie Gay Keith, 87, of New Castle, Indiana went home to be with God on November 20, 2020 at Henry Community Health Hospital.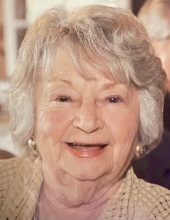 Gay was born in Albany, Kentucky on March 17, 1933 to the late Wetson & Ruby (Garrett) Frost. Gay graduated from New Castle High School in 1951 after marrying the love of her life, the late Jack E. Keith, on December 23, 1950. Throughout their 60+ years together, they created a family that they were so proud of including 3 sons, 2 grand-daughters, and after Jack's death, a great-grandson as well.
Gay made a big decision and decided to go back to school later in life to further her education for herself and her family and earned her certification in diet and nutrition in 1972. After obtaining her certification, she went on to manage the New Castle School Food Service Department, which serviced not only New Castle, but all of Henry County, until her retirement in 1988. Gay also owned and ran Keith's Memorial Flowers alongside her husband, which has provided beautiful arrangements to the community for over 50 years.
Gay was an avid sports fan and her favorites included the St. Louis Cardinals, IU Basketball, Indianapolis Colts, and New Castle Trojans. In a house full of athletes, this is a passion the whole Keith family shared. Gay's knowledge of sports and statistics truly amazed those close to her. Gay loved playing cards and belonged to bridge and euchre clubs with many close friends. Gay was also a philanthropist and donated to several charities in addition to her volunteer work for the Indiana Basketball Hall of Fame and Habitat for Humanity. She was a dedicated member of the First Baptist Church where she lent her hand in helping to organize their funeral dinners and loved to help out in other areas of the church as well.
Gay's love for her annual family vacations to Florida has spanned her lifetime. She loved the beach and the time she spent there with her family. Gay was also passionate about the holidays and was well-known for having both the inside and outside of her home decorated for every holiday, no matter the weather. There was never a more selfless, caring grandmother. She doted on her granddaughters and was overjoyed at the birth of her great-grandson, Grayson Jack. Gay spent her life serving her husband, children, grandchildren, students, community, church, and, most of all, God.
Her endless faith, legacy, and empowering love will be cherished and carried on by her son Kevin D. Keith (Kent Smith); daughter-in-law, Krista Davis-Keith; two granddaughters, Audrey L. Keith and Sarah J. Rhea-Keith (Robert Rhea III); and great-grandson, Grayson Jack Keith. She is also survived by her sister-in-laws, Janet McKechnie Robinson, Knoxie (Crabtree) Frost, and Evelyn Keith; An aunt, Leora Keith; and several nieces and nephews that she loved so much. We would also like to mention close family friend, Marietta Hicks.
Gay has gone on to join her late husband, Jack E. Keith; two sons, Barry G. Keith and Kent A. Keith; brothers Archie Frost, Jack Frost, and Logan "Bud" Frost; and very special niece, Kim (Frost) Gibson.

Funeral Services will be held 1:00 p.m., Wednesday, November 25, 2020 at First Baptist Church Family Life Center, 709 South Memorial Drive, New Castle with Reverend Jerry Ingalls officiating. Burial will follow at South Mound Cemetery. Friends may call from 12:00 noon until service time at the church. In lieu of flowers, donations can be made to the Jack Keith Memorial Athletic Scholarship which is funded through the Henry County Community Foundation, which Gay was so proud of. Envelopes will be provided at service. The funeral directors and staff of Macer-Hall-Marcum & Moffitt Funeral Home, 2011 East Broad Street, New Castle, are honored to serve the Billie Gay Keith family. On-line condolences may be made at www.macerhall.com