Business Connection Leads to Lasting Impact
Kevin Brown describes himself as a "standard Henry County Person." Born and raised here, Kevin knew he wanted to build a family and a business in the community he always considered home.
After completing mortuary school, Kevin worked at Main and Frame Funeral home, where Mark Frame served as a mentor to him. From there, Kevin an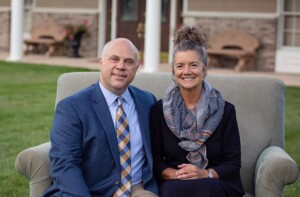 d Phil Hinsey decided to open a funeral home together. In order to find more connection with the community, Kevin began visiting optimist groups. He recalled, "I love being involved in things, and everywhere I went, Herb Bunch was there talking about the Henry County Community Foundation. He shared how things worked and turned me on to the concept of the Foundation."
A financially minded thinker, Kevin was naturally drawn to the work of the Foundation when he heard Herb share about the power of endowment.
He explained, "I love the fact that the money stays local and is perpetual. It's something that will always be here and always be growing. The more it grows, the more it produces. It's a big snowball, but in a good way. I've seen it work! It's what Herb would talk about so much. And in the last 25 years, I've watched money grow and make a difference in the community. It's great!"
This strong belief in the way gifts are managed and poured back into Henry County inspired Kevin to start a fund with his business, The Hinsey-Brown Endowed Scholarship Fund. "Several years ago, when we started the scholarship fund, it gave the staff something to be excited to build. We worked together to get it endowed. Now that we have achieved that, we can enjoy seeing it go out to students," shared Kevin.
But Kevin's enthusiasm for HCCF doesn't stop there; he and his wife, Cindy, have decided to include the Foundation in their will. He expressed, "I am an advocate for growth, and I feel very strongly about the success of New Castle and Henry County. I think the Foundation is a huge engine driving us toward positive change. I love seeing all of the ways the Foundation is providing for the community."
Through the hard work of Herb Bunch many years ago, Kevin Brown has started his legacy as a donor and advocate for the Foundation. He carries on the hope and inspiration of Herb's speeches through his commitment with his family and with his business to make a difference in Henry County!