Caine Grant Helps Keep Christmas Traditions Alive!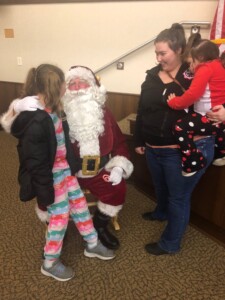 "How to deal with the holiday hustle and bustle" is just one example of the type of article that can be found around Christmastime. But the holiday hustle and bustle is not something that all families in Henry County experience. For some, dinner together with friends or a visit from Santa might seem like a rare or even impossible event.
Organizations like Healthy Families are working to provide some hopeful holiday events for Henry County kids. Healthy Families is a home living program for moms and their babies. They give support to local moms through regular meetings, periodic screenings, consistent curriculum, and referrals to resources like pregnancy care center and food pantries. They come alongside women in their parenting journey and give them encouragement.
Each year, Healthy Families hosts a special Christmas dinner. "A lot of our families aren't invited to social events. They don't always have something special to do at Christmas. We have a full meal together and Santa always comes. He brings presents and sings songs with the kids. It's a great opportunity for our kids and families to be a part of something in the community," shared Henry County Healthy Families supervisor, Kathy Jewell.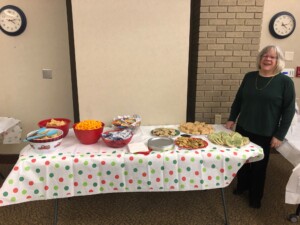 This evening has become a tradition for Healthy Families, but the funding for it has changed over the years. Sometimes it's a struggle to pull it together. When Kathy heard about the grant from the Harold E. and Imogene L. Caine Memorial Fund through the Henry County Community Foundation e-newsletter, she thought it would be a great help for them.
The Harold E. and Imogene L. Caine Memorial Fund was established at the Foundation in 2002 through a donation from the Estate of Harold E. Caine. Born the oldest of three boys in Sulphur Springs, Harold Caine was described as the "life of the party with a sunny disposition. He was always ready to laugh. But he was also concerned for children who didn't have much during the holidays." With that passion to help children have brighter holidays, Harold included the Henry County Community Foundation in his will.
Over the years, the fund has continued to grow and give back to the community. Organizations like Healthy Families, Westminster, ICAP, Christian Love Center, and many more have been able to use grant money from the Harold E. and Imogene L. Caine Memorial Fund to provide food, clothes, and toys for Henry County children.
Kathy expressed, "this grant helped us to be able to have the party for our families. After our other funding ran out, we needed a new source. The Caine grant helped us carry on with the tradition. The families really appreciate it. We're really grateful!"
Through the gift in his estate, Harold Caine's legacy carries on in our community and local families will benefit from his generosity for years to come!