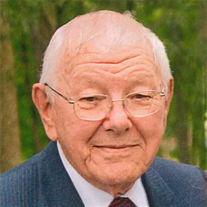 Carroll "Dale" Stairs, 90, a resident of New Castle passed away Saturday, September 2, 2017 at Glen Oaks Health Campus in New Castle. He was born February 14, 1927 in New Castle to the late Murat and Elizabeth (Fritsche) Stairs.
He was a life long Henry County resident and graduated from New Castle High School in 1945 and served in the US Army Air Corp for over 2 years. Dale began his work life while in high school as a pressman for the News Republican. In 1956 Dale was hired by the New Castle Public School System as Assistant Director of Building and Grounds. A short time later, he assumed the role as Director and held that position until his retirement in 1989. As Director of Building & Grounds, Dale oversaw the construction or remodeling of every school or facility existing today.
Dale was a long time member of Memorial Wesleyan Church, a volunteer at the Indiana Basketball Hall of Fame and Meals on Wheels. He was a member of the New Castle Noon Optimist Club.
Dale enjoyed spending much of his vacation time and eventually summers after retirement at the family island in the backwoods of Northwestern Ontario, Canada. As an avid jack of all trades in building and carpentry, he was an exceptional backyard engineer.
Dale is survived by daughter Linda Stairs of New Castle; son Charles (Kim) Stairs of Leo, IN; grandson Kyle Stairs (Christine) of Shreveport, LA; granddaughter Linsey Lasiter (Tyler) of Fishers, IN; sisters-in-law Mary Jo Graves, Akron, OH; Karen Purvis, Tucson, AZ; special nephew Larry Masengale (Jan) of New Castle, IN; many nieces and nephews.
Dale was preceded in death by wife Martha (Purvis) and brother Bill (Wilbur) Stairs, and Sister-in Law Joan Stairs. Also brothers-in -law Paul Purvis, Tom Purvis, sisters -in-law Eula Lockridge, Dorothy Whary, Eunice Purvis, and Joan Antic.
In-lieu of flowers the family requests donations be made to: Henry County Community Foundation or The Indiana Basketball Hall of Fame.
Services will be at 11:00 a.m. Friday, September 8, 2017 at Hinsey-Brown Funeral Services in New Castle with Military rights preformed at the funeral home. Burial will follow in South Mound Cemetery West Lawn Addition. Visitation will be 4 – 8 p.m. Thursday, September 7th at the funeral home. You may express condolences or share a memory of Dale at www.hinsey-brown.com.