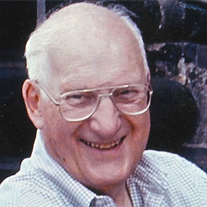 Charles L. Brooks, 92, of New Castle passed away peacefully at the Veteran's Administration Hospital in Indianapolis on Tuesday, August 15, 2017. He was born September 12, 1924 in Union City, Indiana to the late Russel R. and Sylvia Mae (Staudt) Brooks.
He was a 1942 graduate of Union City, Indiana high school where he was drum major of the band, an award winning band in national competitions. He entered Indiana University in the fall of 1942 but his studies were interrupted by World War II when he enlisted of in the Army. He was trained as a BAR man (automatic rifleman) and was a member of the 99th Infantry Division. He was wounded during the Battle of the Bulge and taken prisoner by the Germans. He was awarded the Bronze Star Medal, the Purple Heart Medal and the Combat Infantry Badge. After the war, he returned to Indiana University where he was a member of the Marching Hundred, the marching band. He earned a bachelor's degree in business and later earned a Master's degree in business from Ball State University. He worked in manufacturing, retiring from the former Ingersoll Steel as the chief purchasing agent.
Charlie and his first wife, Sara K. Schlemmer Brooks, were married 49 years before her death in 2001. They enjoyed extensive world travel and visited Europe as well as every state in the US.
In 2003, Charlie married Doris Addington and they have enjoyed fourteen years of travel, and their blended family. The entire family has been blessed by this marriage.
Charlie is survived by Doris, his daughters Elizabeth (Randy) Whitmer of New Castle, Dr. Katie Brooks of Indianapolis, and his son, Hobie (Sally) Brooks of Cincinnati, his step son Van Addington of New Castle; his grandchildren who gave him much joy: Sara and Allison Whitmer of Indianapolis and his great grandson who always put a smile on his face, Reid Coates.
He was preceded in death by his first wife, Sara, his siblings Audrey Brooks Stickel, Roger Brooks, Earl Brooks and an infant brother, Robert.
Visitation will take place on Saturday, August 19 from 1:00pm to 3:00pm with a memorial service immediately following at 3:00 p.m. at Hinsey-Brown Funeral Service in New Castle with the Rev. Dr. Martha FrizLanger and Sister Shirley Gerth officiating. Private burial will take place at a later date at South Mound Cemetery-West Lawn Addition. Memorial contributions may be given to the Henry County Community Foundation Unrestricted Fund, 700 S. Memorial Drive, New Castle, IN 47362. You may share a condolence or memory of Charles at www.hinsey-brown.com.