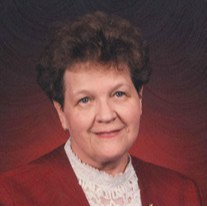 Charlotte Kay Pew, 80, of Spiceland passed away Monday, August 27, 2018 at her home surrounded by loved ones. She was born June 18, 1938 in Henry County to the late Charles and Ona (Dishman) Hudson.
She is a 1956 graduate of Spiceland High School. Charlotte retired after 34 ½ years from Old First National Bank. She was a former member of St. Mary's Catholic Church in Rushville and currently attended St. Rose in Knightstown. Charlotte was a Mental Health Association board member.
She is survived by her husband, Orin Kenneth Pew, Jr.; daughters, Kathy (Derald) Grimwood of Eugene, OR and Kristi Pew of Spiceland; grandchildren, Jenny (Justin) Proffer, Nathan Grimwood (Samantha Angoletta), Will Grimwood and Christopher Pew; great-grandchildren, Kamryn, Kolbi, Nathan, Natalie, Nolan, Theo, Rocky and Paul; brother, Charles Cale (Ruth) Hudson of Lincoln, NE; several nieces and nephews.
In addition to her parents, she is preceded in death by son, Kenneth Charles Pew; granddaughter, Sarah Elizabeth Yuncker and sister, Annetta Sutton.
Services will be at 1:00 p.m. Thursday, August 30, 2018 at St. Rose Catholic Church in Knightstown with Father John Hall officiating. Visitation will be on Wednesday, August 29th from 4 – 8 p.m. at Hinsey-Brown Funeral Service in New Castle. Memorial contributions may be sent to the Henry County Community Foundation, Cancer Society, P.O. Box 6006, New Castle, IN 47362. You may express condolences or share a memory of Charlotte at www.hinsey-brown.com