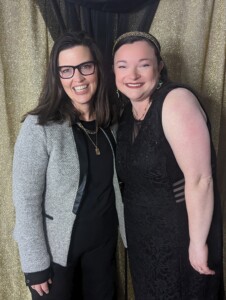 Choose Henry Grant Opens up New Opportunities for New Castle Main Street
Have you enjoyed something delicious from a food truck at the plaza in downtown New Castle or purchased a tasty treat from a local entrepreneur setting up shop in Popped? Then you've experienced the fruits of the labor of New Castle Main Street!
New Castle Main Street encourages economic development, redevelopment, and improvement of downtown New Castle. Executive Director Carrie Barrett, along with the board of directors, has been working hard to revitalize downtown. What you might not know is that Carrie has been volunteering her time and efforts since 2014.
That changed this year. And Main Street added a new member to the team.
With New Castle Main Street's consistent and rapid growth, it became clear that a second position was necessary to continue operating at a high and meaningful level. "Two heads are better than one. What we do is so much about relationship building. Up to this point, to keep our connections going, Carrie was meeting face-to-face and struggling for time to take care of office operations. The biggest scope for us now is becoming nationally accredited because that will open us up to more funding and training opportunities," expressed the new Program Director, Emily Hurst.
Emily went on to share the importance of having a paid director, "We're Indiana accredited and working toward national accreditation. You have to have a paid executive director to be considered. When you have a volunteer position at that level, you have to find the right person to take it on who is willing to be unpaid. It's not a good long-term solution."
This new adventure for Main Street is made possible because donors care about the community and want to see Henry County thriving. Through giving to the Choose Henry Flex Fund at the Henry County Community Foundation, donors are providing for grants like the one given to Main Street to add to their staff.
Carrie spoke on the value of attaining paid staff through the grant from the Foundation, "As I learn more and more about what it takes to have a sustainable nonprofit organization, you have to have a paid staff. It's difficult to raise funds for salaries and operations. We're grateful that HCCF is willing to come up beside us, find out what our needs are, and figure out how to support us. Part of the benefit of getting the Foundation's support is that it creates buy-in. Now, others can recognize the persistent and consistent work because the Foundation's support allows others to feel comfortable supporting too."
Carrie and Emily are working together to ensure that Main Street will continue to be an organization people can trust with their gifts. Bringing in 11 new businesses in 2022, you can see their work take form. Whether through Business Builders, Popped, or special events, Main Street is out in the community and working toward positive change.
Their hopes for the future are a little brighter with the help of the Choose Henry grant. But the grant is only the start for them. They plan to keep developing new ways to help Main Street endure and thrive. Emily explained, "We want to get where our connections are enough to keep us going. If we can be self-sustaining, our day-to-day visible, tangible impact in the community will only grow!"