Choose Henry Grant Paves Way for Pathway of Hope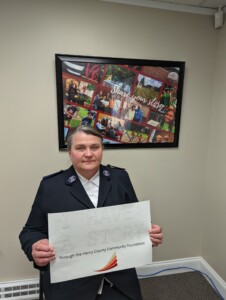 When *Sherry was granted custody of her grandchildren, she was working at a factory and trying to handle her own physical and mental needs. She hadn't been planning to make any significant life changes. But once she saw her family's needs, she knew it was time to go back to school.
Sherry decided to work toward a Certified Nursing Assistant's (CNA) certification. Unfortunately, she couldn't afford daycare, and she had to be especially careful about who could watch her grandchildren.
Desperate to provide a safe home, financial stability, and an improved lifestyle for her grandchildren, she found Pathway of Hope with the Salvation Army.
Pathway of Hope is a program that all Salvation Army organizations offer. It's an initiative to provide individualized services to families with children who want to break the cycle of crisis and overcome challenges like unemployment, unstable housing, educational needs, and much more.
Local director, Beth Stamper, described the Pathway of Hope program, "We teach them to write out a budget or help them learn how to cook or take them to visit Ivy Tech and learn about classes. Often, they need someone to partner with them and help them get through the steps they need to reach their goals. Many of our Pathway families know what they want and might even know how to get it. It's almost like they just don't feel like they're worthy of it."
She went on to share, "It's for people who need help getting out of the rut. We help give them the tools they need to know how to get out of the rut. So, if they ever get stuck again, they can go to their toolboxes and remember that they know how to get out of it."
Beth met Sherry when she was halfway through completing her CNA certificate. They would meet weekly through the program for encouragement and assistance. Beth recalls, "When she passed her CNA class – we were all cheering! She just hit the ground running and works full time now. She's amazing, and the kids are doing really well. We continue to meet with her!" 
Sherry and countless others are seeing positive, lasting changes in their families thanks to the help of the Pathway of Hope program. Generational curses are being broken, lives are being impacted, and the community is growing. Donors like you are playing a part in this great work through our grants process.
In 2021, The Salvation Army of Henry County received a grant from the Choose Henry Flex Fund spring grant cycle to help the Pathway of Hope Program. Beth expressed, "Without financial help, a lot of these stories like Sherry's couldn't happen. The funding from the Foundation grant made it possible for us to help achieve a lot more goals."
Beth is thankful for the funding from generous donors to help the Salvation Army grow and thrive. She is also grateful for the opportunity to share about the difference Pathway of Hope is making in Henry County. Most of all, Beth wants the community to understand, "There are a lot of people who need a little help. They're not bad or lazy. They just need a little help. You don't know everyone's story. Take time to hear someone's story."
*Name changed to protect the privacy of the individual