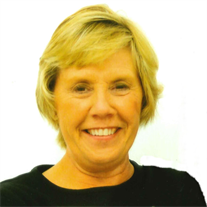 Claudia L. Falck, 71, of New Castle passed away unexpectedly Monday, September 25, 2017 at St. Vincent Hospital in Indianapolis. She was born July 11, 1946 in New Castle, to the late Howard and Dorothy (Brown) Moystner.
A 1964 graduate of Walter P. Chrysler Memorial High School, she also attended Ball State University. She retired from Henry County Memorial Hospital, where she was switchboard operator for over 23 years. She had also volunteered for several years at the Henry County Human Society.
Claudia was an exercise enthusiast, an avid reader, and always enjoyed following her children and grandchildren's activities.
She leaves to cherish her memory, two children, Susan L. (Mike) Falck-Neal of New Castle, and Walter "Duke" (Carrie) Falck of Lewisville; four grandchildren, Hank Neal, Kirsten Falck, Olivia Neal, and Kyle Falck; her step-father, Alfred Holt of New Castle; step brothers, Ricky (April) Holt of Memphis, TN, and David (Anna) Holt of Richmond; two nephews, Daniel Larrimore of Raleigh, NC, and Ryan (Michelle) Larrimore of Salem; a great niece, Katie Larrimore, and two great nephews, Zach and Ethan Larrimore, all of Salem.
In addition to her parents, she was preceded in death by her husband, Walter V. "Duke" Falck, and her sister, Vikki Larrimore.
Visitation will be from 4-7 p.m. Friday, September 29, 2017 at Hinsey-Brown Funeral Service in New Castle. Funeral Services will be at 10:00 a.m. Saturday, September 30, 2017 at Hinsey-Brown. Burial will be in South Mound Cemetery. In lieu of flowers, memorial contributions may be given to the Henry County Community Foundation, Henry County Humane Society Endowment Fund, PO Box 6006, New Castle, IN 47362. You may share a condolence or memory of Claudia at www.hinsey-brown.com.