Building up God's Grain Bin Through Choose Henry Grant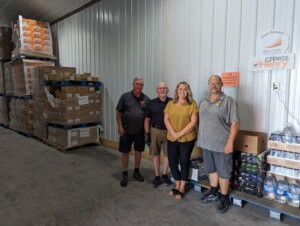 In the heart of Henry County, there is a beacon of hope for those in need: God's Grain Bin, a Christian-based food pantry that serves thousands of people each year.
On a typical distribution day, God's Grain Bin is bustling with activity. Volunteers build around 400-500 boxes to give away. People come and receive a shopping pass to get a box that is roughly 120 lbs. of food and drink per family. These distribution days are open to anyone in Henry County on the first and third Thursdays of each month.
As a donation-based organization, God's Grain Bin partners with many organizations willing to help. Wal-Mart, Dot Foods, Save-a-Lot, Boars Head, Dollar General, Bimbo Bakery, Second Harvest, Kroger, Aldi, Midwest Food Pantry, and more are all contributors to the cause. Volunteers from God's Grain Bin pick up supplies at each of these locations regularly, sending trucks out on the road Monday-Friday.
There are no paid positions within God's Grain Bin. It is 100% volunteer-led. And each volunteer is working hard to make sure the people in Henry County are taken care of. "We won't stop until hunger stops," emphasized director, Owen Wyant.
"You see that person walk up here and smile when they leave, and all of the hard work is worth it. No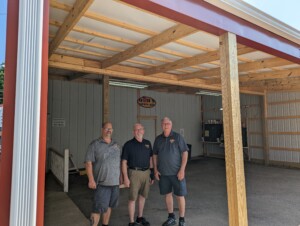 body deserves to worry about where their next meal is coming from or when their kids will eat again. We can show love and share with others!"
So, how do they do it? How can they financially support all of the programs they offer and the upkeep of their buildings and trucks? Through donors and grants!
While they've been growing in numbers over the years, they've started to burst at the seams. Having to keep things in trucks because they couldn't store it all, they found themselves in need of more space.
That's when they came to the Community Foundation during a Choose Henry Flex Fund grant cycle in 2023. They were granted funding to build a large storage area.
"The grant doubled the size of the product we can hold. It cut down on lots of trips which saves on fuel and upkeep of the trucks. We don't have to pay for delivery of food because we now have the space to hold enough here. And it allowed us to take on more non-food items for the community," shared David Hall, the secretary and treasurer.
In addition to this storage area, the grant funding was used to add a shelter extension. This extension gives a layer of protection over the products available during bad weather.
God's Grain Bin is a shining example of what can be accomplished when people come together to help those in need. Through the generosity of donors and grants, God's Grain Bin is able to provide thousands of people with food and other essential items each year. The new storage area and shelter extension will allow God's Grain Bin to continue to serve the people of Henry County for many years to come.
We are grateful for donors to the Choose Henry Flex Fund who make life-changing work like this possible. Through the dedication of the volunteers at God's Grain Bin and the generosity of donors, this organization is making a real difference in the lives of thousands of Henry County residents.