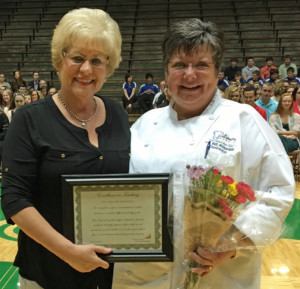 Lou Nell Richardson, Culinary Arts teacher at the New Castle Career Center, is the recipient of the 2017 Teacher Excellence Award. Mrs. Richardson was awarded a certificate of recognition and award on May 10, 2017 from the Henry County Community Foundation.
The Teacher Excellence Award is the highest honor the Foundation can bestow on an individual in education. The honor is designed to recognize teachers who have demonstrated an outstanding commitment to inspire students to reach for difficult and lofty goals. Persons to be recognized have earned the respect of students, parents and peers through sustained effort, high moral standards and the likelihood of enduring beneficial effects on the students with which they have worked.
Mrs. Richardson's nominator spoke highly of her dedication to the Culinary Arts Program at the career center as both a teacher and in a professional capacity, writing about how the students in her courses participate in catering events throughout the school year.
"Their catering has always been carried out in a highly professional manner with attention to every detail. I have always been impressed with the way Mrs. Richardson incorporates instruction into each element of interaction with me, the customer," said Missy Modisett, New Castle Henry County Chamber of Commerce Executive Director.
"It is clear the students have an instructor who genuinely cares," she added. "Many of the students in Lou's program are in need of someone to believe in them, to push them, to build them up and I believe Lou does that with each and every one of her students. Many of them leave the program with real marketable skills in culinary arts but thanks to Mrs. Richardson, they leave with so much more than that," said Chambers.
Any current, full-time educator of a public school within Henry County was eligible for nomination and the winner was selected by judges outside the county. This award is sponsored by an endowment at the Henry County Community Foundation.
"We have many outstanding educators in Henry County and we are honored that donors in our community want to recognize these teachers and let them know how much we appreciate their great work," said Beverly Matthews, President of the Foundation.
Photo caption: L-R, Henry County Community Foundation president, Beverly Matthews presents the Teacher Excellence Award to Culinary Arts instructor, Lou Nell Richardson at the New Castle Area Career Center Honor Night on Wed., May 10.