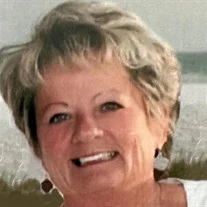 Debra Jayne Ratliff, 75, a resident of Greenfield passed away Tuesday, August 30, 2022, surrounded by her loving family at her home. She was born on August 2, 1947 in Anderson to the late Bucky and Anna May Cronk.
Debra was raised in Kennard and lived in Knightstown most of her life and spent many wonderful years enjoying her Florida residence as well. She was a graduate of Butler University with a master's degree in physical education and health. Debra, remembered by many as a teacher, coach, mentor and friend taught within the Charles A. Beard School district for over 30 years. Debra was so talented in many things, her passions included golf, shopping, traveling the world, spending time with her Ya Ya sisters, and friends but most of all spending as much time as she could with her family. She always had a positive outlook for life and a caring soul only wanting to help others. Debra had a wonderful life here, an amazing woman gone too soon, but forgotten by no one that ever crossed her path.
Survivors include her husband of 40 years, Billy R. Ratliff; one daughter, Amy M. (Kenny) Boysen; three step sons, Brian (Wendi) Ratliff, Brad (Angela) Ratliff and Brett (Annie) Ratliff; one sister, Tina (Larry) Fowler; one brother, Mark (Nancy) Cronk; one granddaughter, Alexis Thompson; step grandchildren, Eli, Clay, Addison and Ethan Ratliff; two great grandchildren and many nieces and nephews.
A Celebration of Life will be at 2:30 PM Thursday, September 8, 2022 at Hinsey-Brown Funeral Service Knightstown Chapel with Pastor Tommy Hensley. Burial will follow in Glen Cove Cemetery. Visitation will be from 11:00 AM until time of service. In lieu of flowers, memorial contributions may be made to Debra Ratliff Memorial Scholarship Fund, Henry County Community Foundation, PO Box 6006, New Castle, IN 47362. Condolences and memories of Debra may be shared a www.hinsey-brown.com.
To send flowers or a memorial gift to the family of Debra Jayne Ratliff please visit our Sympathy Store.