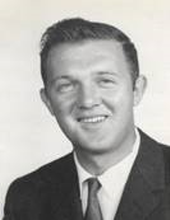 Donald L. Tower or "Honesty" to his friends, passed away on Sunday November 11, 2018 at his home surrounded by his children. Don was born in Westwood on September 15, 1931 to the late Fred and Oleva Doyle Tower. He graduated from Walter P. Chrysler Memorial High School in 1950 where he was involved in sports. His favorite sports were basketball and baseball. He also had a love for playing cards; especially poker or a challenging game of pool. He taught his children and grandchildren how to play cards or any board games. Don made anyone that played games with him, earn their win.
Don married the love of his life Almereen Lay Tower on October 2, 1953 in Jellico, Tennessee. He met Almereen while she was working in the family garden digging potatoes and was immediately smitten. He had to win over Almereen's family and friends; as they were not happy when he took her out of Kentucky to start their lives together. Don eventually won them over with his hard work and charm. Through their lifetime they lived in Texas, Kentucky, Ohio, and eventually settling and raising their children in Indiana. One disagreement Don and Almereen had in their 64 years of marriage was who would win between the Indiana Hoosiers or the Kentucky Wildcats.
How fitting that Don passed away on Veterans Day, as he was a Veteran of the Korean conflict and served in the 5th Regimental Combat Team, where he received the Korean Service Medal with three bronze service stars, National Defense Service Medal, Korean Presidential Unit Citation Commemorative Medal, and the Combat Infantry Badge.
Prior to the army Don attended New Mexico University on a basketball scholarship but left school to pursue other interests. After serving his country, he completed his Bachelor of Science in Education at Eastern Kentucky State College in 1960.
Don taught school in Kentucky and Indiana and coached high school basketball in Kentucky. He always thought of others and especially making sure his family was provided. He left the teaching profession and went to work for Chrysler, then General Motors. Don eventually retired from General Motors Corporation in Wentzville, Missouri in 1994. He was called "Coach" by many of the ball players that he remained friends with after leaving Kentucky, but also former students he taught and coworkers from General Motors.
Don was a member of the American Legion Post 137, Greensboro Lodge No. 175 and Veterans of Foreign Wars Post 1282, where he had previously been a member of the honor guard. He served on various committees and for a brief time delivered Meals on Wheels with his wife. One of the biggest accomplishments after retirement was to change his lifestyle and lose over 150 pounds. He loved being around his family, especially the grandkids and eventually the great-grandsons.
Survivors include his children Chane Tower (Karen), Connersville, IN., Chapel Tower Givens (Steve) Indianapolis, IN, Charity Tower Bowling, New Castle, IN, and Cheri Tower Bate (Greg), Fishers, IN.
Grandchildren Kevin Tower (Fiancé Jenny Shaw), Connersville, IN, Casey Tower-Bowling McClarnon (Kevin), San Jose, CA, Katie Tower Hokanson (Mark), Brighton, MN, Tyler Givens, Indianapolis, IN, Joshua Bate (Whitney), Indianapolis, IN, and Samuel Bate, Indianapolis, IN. Great-Grandsons Jack Hokanson, Brighton, MN, Ryan Hokanson, Brighton, MN, Chancellor Bate, Indianapolis, IN, Hudson McClarnon, San Jose, CA, and Alistair Bate, Indianapolis, IN.
Don was preceded in death by his parents, his wife Almereen, and his brother Forrest Dale Tower.
The family would like to especially thank Don's current caregivers Amanda Mercer, Brooke Mitchem, and Christy Goudy. A special thanks to other caregivers, family, friends, and Henry Community Health Hospice.
Visitation will be from 4-7 pm on Friday November 16, 2018 and 1 hour before the funeral service at Macer-Hall Funeral Home and Cremation Services in New Castle, IN. The funeral will be on Saturday November 17, 2018 at 11:00 am at Macer-Hall Funeral and Cremation Services with Pastor Chris Gammello officiating. Full military burial will follow at South Mound Cemetery.
Don loved coaching, teaching, and helping others. To honor his memory the family has asked that contributions be made in memory of Don Tower to the Henry County Community Foundation, PO Box 6006, New Castle, IN 47362.