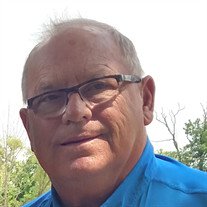 Donald R. "Don" Stone, 67, of New Castle passed away Friday, January 18, 2019 at Reid Hospital. He was born March 22, 1951 in New Castle to the late Raymond Stone and Mary Alice (Mettert) Wilson.
He was a 1970 graduate of New Castle Chrysler High School. Don worked at Dennis Equipment, Muncie Freightliner and retired from Stoops Freightliner. He enjoyed fishing, camping, playing guitar, traveling and especially enjoyed spending time with his family.
He is survived by his wife of 47 years, Peggie A. Stone, children, Brian Ray Stone (April Wilburn) of Florida, Melissa (Jeff) Martin of Richmond; grandchildren, Britney (Tyler) Groves, Dylan Stone (Becca May), Sena, Joe and Sara Martin; 3 great-grandchildren, Willow, Wyatt and Donnie; siblings, Tena (Bill) Palmer, Saundra (Chris) Bryant, Monica Price, Anita (Scott) McFalls and Mike Stone; mother-in-law, Phyllis Upchurch of New Castle; brother-in-law, Kenny (Glenda) Upchurch of New Castle; several step siblings, nieces and nephews.
He was preceded in death by his parents.
A celebration of life will be held at 7:00 p.m. Thursday, January 24, 2019 at Hinsey-Brown Funeral Service in New Castle with Pastor Trevor Stanley officiating. Visitation will be from
3 – 7 p.m. prior to the services. Memorial Contributions may be sent to the Henry County Community Foundation Cancer Society, PO Box 6006, New Castle, IN 47362. You may express condolences or share a memory of Don at www.hinsey-brown.com.