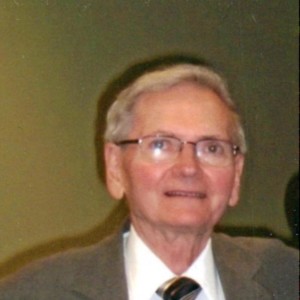 Dr. Cloyd L. Dye Jr., 87, of Mt. Summit, passed away March 10, 2020 at Henry County Community Health. He was born February 17, 1933 in Warsaw, IN to the late Cloyd L. and Ethel (Creighton) Dye Sr.
Cloyd was a 56 year member of the Mt. Summit Christian Church where he served as Elder, Sunday school teacher, and board member (previously serving as chairman). He loved to go on fishing trips, travel with his family, and was an avid supporter of IU Basketball.
He graduated from Warsaw High School as valedictorian. He graduated Magna Cum Laude from Manchester College and completed his medical degree and residency training from Indiana University School of Medicine.
Cloyd was a Physician of Internal Medicine and Cardiology at Henry County Hospital for 35 years and upon retirement from his private practice served as the first Medical Director of the Henry County Hospice for an additional 10 years. He led development of the Coronary Care Unit at Henry County Hospital in 1968, which was the first one in Indiana. He was a Fellow of the American College of Physicians, Associate Fellow of the American College of Cardiology and was on the voluntary teaching staff with I.U. Medical Center.
Cloyd was the recipient of many distinguished awards during his career. Upon retirement in 1998, he was awarded the Sagamore of the Wabash by Gov. Frank O'Bannon. In 1999, he received the Laureate Award from the American College of Physicians, and the Danny Danielson Humanitarian Award in 2002.
Cloyd is survived by his wife, Mary Lou (Shively) Dye of Mt Summit, (whom he married July 18, 1971); Son, Blake (Kim) Dye of Fishers; Daughter, Staci Dudley of Whitestown; Step-daughter, Pam (John) Davidson of New Castle; Step-son Joe (Tina) Canaday of Rensselaer. Seven grandchildren: Leslie (Ryan) Antiel of St. Louis, MO; Emily Dye of Fishers; Kelci (Jon) Laster of Whitestown; Bryce Dudley of Indianapolis; Dylan (Rachel Cook) Dudley of Greenville, OH; Joshua Canaday of Wichita, KS; Abby (Charlie) Mulligan of Fishers. Nine great grandchildren: Adelyn, Liam, Olivia and Sadie Ruth Antiel, Kayleigh and Ellie Dye, Dominic Dudley, Lucas and Olivia Mulligan.
In addition to his parents, Cloyd was preceded in death by his son, Bret Alan Dye and sisters, Miriam McCleary and Dorothy Lackey.
Services will be 2:00 p.m. Saturday, March 14, 2020 at Mt. Summit Christian Church with Pastor James Petty officiating. Burial will follow in Mt. Summit Cemetery. Visitation will be 3-8 p.m. Friday, March 13, 2020 at the Church. Funeral arrangements have been entrusted to Hinsey-Brown Funeral Service in New Castle. Memorial contributions may be given to Henry Community Health Foundation, P.O. Box 490, 1000 North 16th Street, New Castle, IN 47362 or Dye Contingent Fund for Mt. Summit Christian Church, c/o Henry County Community Foundation, P.O. Box 6006, New Castle, IN 47362. You may express condolences or share a memory of Cloyd at www.hinsey-brown.com