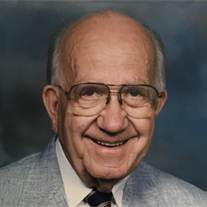 John Dickey, age 99, died Wednesday, October 25, 2017 at his home in New Castle, IN. He was born September 3, 1918 in North Liberty, IN, a son of Howard B. and Effie Neher Dickey. He was a 1936 graduate of North Manchester High School and a 1940 graduate of Manchester College with a B.A. in mathematics.
As a conscientious objector John chose to perform alternative service during World War II at Norwich Connecticut State Hospital. Following the war he worked with the United Nations Relief Association, making two trips to Poland with boatloads of horses.
John married Helen Lord Gest in 1954 and adopted her twins, John and Jane.
Born with itchy feet, John absolutely loved to travel. His unbridled curiosity about people and places, inventions and ideas remained robust into his 100th year. He fed his curiosity with books, films, TED talks and conversations. He devoured magazines, newspapers and chocolate. A lifelong Democrat, he voted a straight ticket and believed the world's problems could be solved through education, diplomacy and generosity.
John is survived by his daughter, Jane and son-in-law John Pidgeon, and daughter-in-law, Calista Dickey. His grandchildren are Anna (Nicholas) Brown, Ellen (Scott) McLaughlin, Sara Dickey, and Matthew (Emily) Dickey, great-grandchildren, Mabel and Solomon Brown, Ellie and Sam Dickey and Ellis McLaughlin.
John was predeceased by his wife Helen and son, John Stephen Dickey, his parents, sister Evadean Van Dyke and brothers Galen and James Dickey.
Friends and family are invited to gather at Hinsey-Brown Funeral Service in New Castle from 4 – 6 p.m. on Saturday, October 28. Private graveside services will follow at a later date.
In lieu of flowers memorial contributions may be sent to the Henry County Community Foundation designated for the John and Helen Dickey Scholarship Fund for the benefit of Knightstown High School students. You may express condolences or share a memory of John at www.hinsey-brown.com.
Click here to donate to the John and Helen Dickey Scholarship Fund