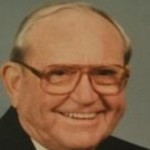 DR. PAUL MAX SHERMAN
(June 12, 1924- January 16, 2017)
Paul Max Sherman, 92 longtime resident and Dentist in New Castle passed away Monday morning in LaPorte, Indiana.
He was born in Muncie, Indiana, June 12, 1924, the son of Ray and Fay (McLain) Sherman.
He graduated from Ursinus College, Collegeville PA in 1946 with a BS in Pre-Dental.
He received his D.D.S. From Temple University School of Dentistry, Philadelphia, PA in 1948.
He served active duty in the Navy from 1942-1952 and was active in reserves until 1972.
He retired as LCDR (Lieutenant Commander DC USNR.)
He was a member of Delta Sigma Delta Dental Fraternity, member of the Indiana State Dental Association and a member of Rotary of New Castle where he served as President.
He worked with Henry County Conservancy District, where he served as Treasurer and was a member of Westwood Country Club. He was a lifetime member of First Christian Church-Disciples of Christ.
He was the 1942 Captain of the Middletown Cossacks Basketball team and a member of Ursinus College basketball team.
He was preceded in death by his Wife, Nancy Ann Sherman and Parents, Fay and Ray Sherman of Middletown, IN. Survivors include, Sister Martha McNeil (Don) of Middletown, IN. Daughters, Stacey Scott (Jan) of Ellicott City,MD, Leslie Mullis (Mike) of Bedford, IN and Paula Sue (Ralph "Chip") Jones of LaPorte, IN, Grandchildren, Dr. David Lewis Scott (Angela) of Portland, OR, Paul Matthew Scott(Jordan) of Brooklyn NY, Dr. Brady Katherine Jones(Kevin Rasp) of Chicago,IL, Kelly Ann Jones (Nate Santana) of Chicago,IL, Amy Charlotte Jackson(Roger )of Chicago, IL and Nancy Jane Paledino(Samuel ) of Avon, IN, Great-grandchildren, Max, Drew and Lauren Scott of Portland, OR, Harlyn and Elisabeth Scott of Brooklyn, NY, Andre and August Jones-Rasp of Chicago, IL, Emery Jackson of Chicago IL, Luca and Lenora Paledino of Avon, IN, Step-grandchildren , Brady and Casey Mullis of Bedford, IN and Aimee and Mike Peddle of Grand Rapids , MI, Step great-grandchildren, Uly, Jasper, Hiram, Beatrice and Eamon Mullis of Bedford, IN and Tyler, Sydney and Rylee Peddle of Grand Rapids, MI.
Services will be held Saturday, January 21 at 2:00 PM at  Ballard and Sons Funeral Home, 118 south 5TH, Middletown with Pastor Marty Ballard officiating.
Burial will follow in Miller Cemetery, Middletown.
Friends may call from noon until the time of the services on Saturday at the funeral home
Memorials may be made to Henry County Community Foundation.
Click here to make a contribution in memory of Dr. Paul Max Sherman.