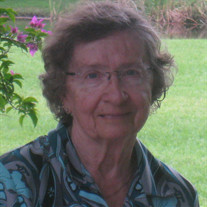 Eleanor Pauline (Mulig) McNelis, 83, of New Castle, passed away on the evening of Saturday, December 2, 2017, at IU Health Ball Memorial Hospital in Muncie. Ellie died unexpectedly from a brain aneurysm after a remarkable recovery from multiple brain aneurysms 14 years earlier.
She was born June 25, 1934, in Pittsburgh, Pennsylvania, a daughter of the late Anthony T. and Anna (Radovich) Mulig.
Ellie moved to New Castle in 1972 and was the first female leader of the Henry County Horse and Pony Club. She was a member of the Henry County Saddle Club and St. Anne Catholic Church. Ellie devoted her life to her family and horses.
Those left to cherish Ellie's memory include her brother, Anthony F. Mulig of Pittsburgh, PA; a son, Kevin McNelis of New Castle; two daughters, Amy (husband: Gabe) Hollowell of Ridgeville and Lisa (husband: Rick) McNelis-Roselli of Boca Raton, FL; her grandchildren, Chelcy McNelis, Quincey (husband: David) Caldwell, Joseph Paul McNelis, Cash Leigh Hollowell, Nick (wife: Monica) Roselli, Chrissie (husband: Dave) Siegel, Alexandra Roselli, Michaela "Lucky" Roselli and Anthony Roselli; a great-grandson, Roman Michael McNelis and several nieces and nephews.
She was preceded in death by her husband, Francis Joseph McNelis; her sister, Ann Craig, and her granddaughter, Gatlynn Grace Hollowell.
A Mass of Christian Burial will be held at 11:00 am Thursday, December 7, 2017, at St. Anne Catholic Church with Father John Hall officiating. Burial will follow in St. Anne Cemetery.
Friends may call from 4 – 8 pm on Wednesday at Sproles Family Funeral Home.
In lieu of flowers, memorial contributions may be offered to St. Anne Catholic Church designated for The Catholic Women of Henry County or the Henry County Community Foundation designated for the Fred E. & Catherine Brenneman Carpenter Fund for the Henry County Saddle Club.
You may send the family a personal condolence at www.sprolesfamilycares.com.
The Sproles family and staff are honored to care for the family of Eleanor Pauline McNelis.