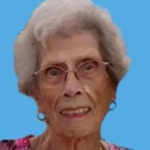 Elma L. Alcorn, 94, of New Castle, went to meet her Lord and family in heaven on Tuesday, July 3, 2018 while at Henry Community Health. She was born March 12, 1924 in Cambridge City, a daughter of the late Carlos Durham and Anice (Shell) Sosby.
A 1943 graduate of New Castle High School, Elma worked at Chrysler Corporation from 1942-1947. She retired from the New Castle State Hospital in 1986, where she worked in nursing. She was a life member of the VFW Ladies Auxiliary and a member of Christ United Methodist Church for many years. She loved to fish, spend time on her pontoon, travel, and gardening. She enjoyed spending time with her family, was an accomplished seamstress, loved the Trojans, Reds, and the Colts.
She leaves to cherish her memory, two daughters, Terri (Rick) Hileman of Mooreland, Kriss (Vernon) Lockridge of New Castle and Palm Harbor, FL; a son, William (Kim Burke) Alcorn Jr. of New Castle; grandchildren, Wendi (Patrick) Shaffmaster of New Castle, Jenny Turner Crawford of New Castle, Glade (Julia) Fredericks of New Castle, Kristopher (Ghohua "Emma") Fredericks of West Lafayette, William Alcorn III "Trey" of New Castle, Eric Micah Alcorn of Indianapolis, Rachel (Danny) Wood of Colorado Springs, CO; great grandchildren, Morgan (Max) Elyea Hoggard of Charlottesville, VA, Macey Elyea of Fairfield, OH, Melani and Mabrey Shaffmaster, both of New Castle; Jacob and James Fredericks, both of New Castle, and Halona Fredericks of West Lafayette; many nieces and nephews.
In addition to her parents, she was preceded in death by her husband, William Alcorn; a daughter, Dixie Turner in 2016, a grandson, Barry Fredericks in 1992, and a special friend, Elvin Worth.
Services will be at 2:00 p.m., Saturday, July 7, 2018 at Hinsey-Brown Funeral Service in New Castle with Pastor Carol Wiley officiating. Burial will follow in Mooreland Cemetery. Visitation will be from 11:00 a.m. to 2:00 p.m. at time of service on Saturday at the funeral home. Memorial contributions may be given to the Salvation Army, c/o Henry County Community Foundation, 700 S. Memorial Dr., New Castle, IN 47362. You may share a memory or condolence of Elma at www.hinsey-brown.com.
Click here to donate.