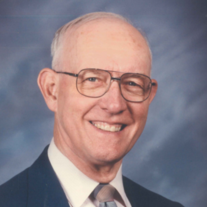 Eugene "Gene" Dickerson, 91, of New Castle passed away January 3, 2020 at his home. He was born April 1, 1928 in Henry County to the late Otto and Pauline (Cluggish) Dickerson.
Gene was a lifelong member of the First Bible Free Will Baptist Church. He was a veteran of the US Army where he served in the Korean War with the 101st Airborne. Gene graduated from Ball State University and was the first mother/son to graduate Ball State together. He was a Master Mason at lodge 91 and was the first father/son Master Mason of that lodge. Gene was past president of the Indiana Society of Public Accountants; he also was a 50 year member of the noon optimist. He was an Eagle Scout with the Boy Scouts and a member of the Henry County Art Association. Gene was the owner of Dickerson Accounting and was a public accountant for over 60 years.
He is survived by his wife of 45 years, Dorothy (Hart) Dickerson of New Castle; children, Carol Madison of Pensacola, FL, Nancy Dickerson of New Castle, Greg (Rose) Dickerson of New Castle, Susie (Mike) Wantz of New Castle; grandchildren, Tisha Clayborn of Lexington, KY, Derek Madison of New Orleans, LA, Bradley Wantz of Indianapolis, Curtis (Mayra) Madison of Mary Esther, FL, Christopher Wantz of New Castle; great-grandchildren, Taylor, Mia, Evan and Ethan; great-great grandchild, Tamia; sister, Freida Painter; step-daughter, Roberta Smith of Elwood; step grandchildren, John, Michelle, Aleigha and Autumn; caregiver, Lori Gardner.
In addition to his parents, he is preceded in death by his first wife, Phyllis (Boiles) Dickerson in 1968; grandchildren, Jessica Wantz, Ben Shallenburg, step-son, Jeff Stahlbush and a step-daughter, Theresa Abrell.
Services will be at 2:00 p.m. Friday, January 10, 2020 at Hinsey-Brown Funeral Service in New Castle with Dustin Walters officiating. Burial will follow in South Mound Cemetery with military rites being conducted by the US Army and American Legion. Masonic rites will be conducted by New Castle Masonic Lodge #91. Visitation will be from 12 – 2p.m. prior to the service. Memorial contributions may be sent to the New Castle Noon Optimist Club Thelma Cluggish O'Reilly Memorial Scholarship Fund at the Henry County Community Foundation, P.O. Box 6006, New Castle, IN 47362. You may express condolences or share a memory of Gene at www.hinsey-brown.com.