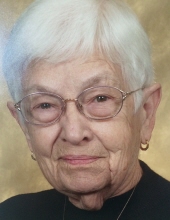 Evelyn Irene Rentchler, 96, New Castle resident, passed away Monday April 24, 2017 at Henry Community Health.
She was born August 31, 1920 in Clinton, Missouri, a Daughter of the late William G. and Clara H. (Holcomb) Rentchler. She was also preceded in death by one Sister, Helen R. Epple and one Nephew, T.H. Epple II.
She received a B.S. Degree from Missouri Valley College and a M.S. Degree from Indiana University. She taught Physical Education in Smithville, Missouri, Marshall, Missouri, and Ottumwa, Iowa. Miss Rentchler was Chairman of the Counseling Dept. for New Castle High School from 1952 – 1989.
She was a member of Kappa Kappa Kappa Sorority and was past President, also Delta Kappa Gamma, Indiana Retired Teachers' Association, The First Presbyterian Church (where she had served as an officer), D.A.R. in Clinton, Missouri, and was a long time volunteer for the Indiana Basketball Hall of Fame.
Funeral services will be held at 7:00 P.M. Thursday May 4, 2017 at the First Presbyterian Church with Rev. Wally Wilson officiating.
Memorial contributions can be made to the Mary Modlin Scholarship Fund at the Henry County Community Foundation.
Arrangements by Macer-Hall Funeral Home & Cremation Services.
Online condolences may be made at www.macerhall.com
Macer-Hall Funeral Directors are honored to conduct the service for Miss Rentchler.