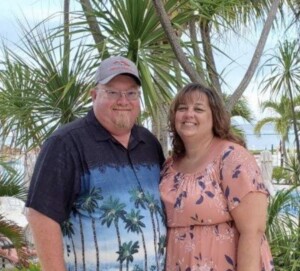 Meet Our Donors!
Who: Born and raised in Henry County, Donnie and Melissa True have always been a part of the community. Though Donnie's job with Rolls Royce takes him away during working hours, they have found a way to stay active here. Melissa serves as the CEO of REMC, and has given of her time to serve in many ways.
"I've been fortunate to be very involved. Over the years I have been a part of the Secret Families, BAM, New Castle Noon Optimist, Chamber of Commerce, the EDC, the United Fund, and Safe at Home. I've been able to give back through volunteering and donating to these organizations," shared Melissa.
Why Give? The Trues have seen the power and importance of a strong community.
Melissa remembers a meaningful moment, "Donnie is very sick and has been going through kidney dialysis. The employees at REMC have been giving and supportive. One day I saw people walking into our community room, and they told me they were prepping for a birthday party for our intern. Once I walked in, I saw my entire family there. They had all taken up a donation for me and Donnie. It's amazing to watch the people in our community make sure others have what they need."
It's that lifestyle of taking care of each other that Melissa and Donnie want to carry on.
Why Give Through the Foundation? Donnie and Melissa see the needs in our community and feel blessed to be able to help others. They chose two things that meant the most to them and set a plan to make a lasting impact through a designated fund, The True Family Fund.
"Since we weren't able to have children, we wanted to set up something at the Foundation and make sure that children in the community could have a great Christmas. We wanted to make a difference for children who are less fortunate. We chose to use our fund to support Secret Families of Henry County. The other area we want to support is farming. Donnie is passionate about anything Ag related. We included the Ag and FFA at Blue River."

What Makes Henry County Special? Living in a great area where people show love and concern for each other, Donnie and Melissa are thankful for the people around them.
"There are so many positive things happening here. We live where people know each other by name and care about each other. It's a very giving community!  And every dollar matters – big or small – give what you can and impact our community in a positive way."