By: Amber Estelle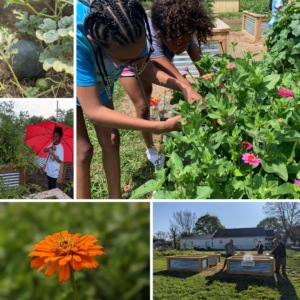 What happens to abandoned houses? The buildings start to fall apart and become targets for arsonists. They attract wild animals and cause disturbances. Ultimately, they bring down the value and morale of the neighborhood.
But what can be done?
In Henry County, a group of caring citizens and organizations are working together to make a change through the Blight Elimination Program*.
This project began as the lot of a burned-down, abandoned house. The group had a vision for what the space could become but lacked the resources. That's when Raintree Habitat for Humanity applied for and received a Henry County Community Foundation grant to help start a community garden.
After receiving funding from a Choose Henry Flex Fund grant, Alan McCraine and Jerry Cash led the group to build planters and use organic materials like cardboard, branches, and leaves to create a good garden base. From there, they offered the garden spots up to people in the neighborhood.
When Parker Elementary third grade teacher, Kelly Harvey, heard about the community gardens, she called Alan with an idea to bring students out to the gardens. He was thrilled at the prospect and has remained involved throughout the process.
Eight students from Parker Elementary turned in applications to participate – Jazzy Dudley, Adriana Guerrero, Sy Hinshaw, Makenna House, Kei'Mari Leath, Bentley Lindquist, Cambree Powers, and Brody Slavey. After creating the club, Kelly decided to obtain a mini-bus driver's license, and in the Spring of 2021, she started bringing the students out to the gardens.
"Rarely are children given the opportunity to engage in the community and give back. I thought it would be cool for my students to have something to be a part of and to be able to feel proud of and show their parents," expressed Kelly.
In the midst of covid restrictions and the unusual school year, the garden was a safe space for students to gather. Kei'mari and her mom, Keshia, often came to visit, and Kei'Mari noted how much it meant to her to be out and about, "I love getting to leave my house and see my friends."
The garden club continued to meet over the summer. For about half an hour every week, they would come to water and weed. Some parents were able to join them in the work too. Together, they experienced cutting zinnias and watching them grow back stronger. And they found out about growing and eating herbs.
Another student, Sy Hinshaw, shared, "We got to garden a lot of things that we don't garden at my house. If we didn't do it here, I wouldn't have known what it tastes like. We got to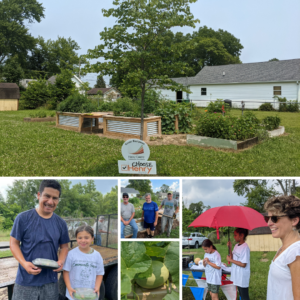 explore nature!"
They even sent home bouquets of flowers. Jazzy Dudley thought that part of the experience was especially great. "It's fun! You get to grow flowers and food, and then you get to t
ake them home after you cut and pick them," she said.
In August, the garden club got to show off the fruits of their labor. Committee volunteers, students, parents, and school representatives all came out to see how great the gardens were doing.
They gave away fresh cantaloupe and tomatoes. The New Castle Career Center provided salads and snacks. Alan and Kelly both shared about the great experience of hosting the garden club.
It's through the generosity of our donors who give to the Choose Henry Flex Fund that we're able to play a part in this great story. Now, because of the funding from supporters, what began as an abandoned space has expanded into a flourishing program that is making a difference in the neighborhood and in the lives of Henry County students and families. We can't wait to see how the garden continues to grow!
The Choose Henry Flex Fund was created to address local needs and enhance our community. Whether it's a $10 donation or more, all gifts to "Choose Henry" provide the Foundation with the flexibility to respond to today's needs and future opportunities for the community.
Giving through the Choose Henry Flex Fund is a great way to impact the community, meet needs in Henry County, and share your story!
*The Blight Elimination Program is an Indiana Housing and Community Development Authority-funded effort to reduce the number of abandoned houses and the impacts they leave in their neighborhoods.
The Henry County committee of volunteers consists of ICAP, Healthy Communities, Habitat for Humanity, Hope Initiative, New Castle Housing Authority, Jerry Walden City Council, and several local realtors and individuals.