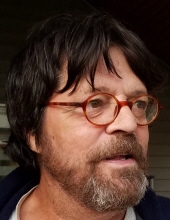 Gary Thomas Bouslog, 68, a New Castle resident, passed away Friday January 26, 2018.
He was born December 31, 1949, in New Castle, a son of the late Scott and Doris Thomas Bouslog.
Gary was a New Castle resident most of his life.
He was a 1968 graduate of New Castle Chrysler High School and attended Indiana University in Bloomington, IN.
He served a four year enlistment with the United States Air Force and was stationed at Kadena Air Base in Okinawa and Da Nang Air Base during the Vietnam War.
Gary retired from the US Postal Service in 2010 after 30 years of service and was a member of the National Association of Letter Carriers. He took great pride in building strong relationships with his customers and going above and beyond for them on a daily basis.
He was an elite level crossword player and most anything he set his mind to.
Gary loved sharing time with his family and friends, he loved music, thinking, creative writing, laughter and relaxing in the sun.
Left to cherish his loving memory include two sons, Coley Bouslog of Cherry Valley, IL, and Chad (Laura) Bouslog, Indianapolis, IN, his former wife Anne, four grandchildren, Mckayla Bouslog, New Castle, IN, Caden Bouslog, Verona, WI, Fitzgerald Bouslog, and Griffin Bouslog, Indianapolis, IN.
He is also survived by his siblings Lana Enlow, New Castle, Richard (Donna) Bouslog, New Castle, Greg Bouslog, New Castle, Lisa (David) Dumford, New Castle, and many nieces, nephews, and cousins.
He was preceded in death by his parents, a niece, Sarah Bouslog, and a nephew, Joel Bouslog.
Friends may call from 4pm-8pm Monday, January 29, 2018 at Macer-Hall Funeral Home and Cremation Services.
The funeral service will be held Tuesday, January 30, 2018 at 11am at the funeral home with Rev. Tom McGilliard officiating.
Memorial contributions may be made to the Scott and Doris Bouslog Family Fund care of The Henry County Community Foundation with envelopes available at the funeral homes.
Military honors will be conducted by the US Air Force, The American Legion, and The Veteran of Foreign Wars.
Online condolences may be made to www.macerhall.com.
Macer Hall funeral directors are honored to serve the Bouslog family.