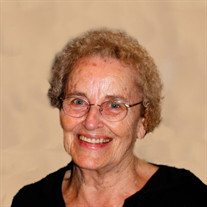 Gladys Thompson, 88, of New Castle, passed away Wednesday, January 31, 2018 at Hickory Creek of New Castle. She was born February 27, 1929 in Jeremiah, Kentucky to the late Jasper and Georgia (Back) Hampton.
She had been employed as a cook at Tri High School cafeteria. An avid sports fan, she followed all five of her grandchildren's sporting events at Tri, Blue River and New Castle schools and continued to support athletic events after her grandchildren graduated. She loved cooking, gardening, camping, quilting and bluegrass music. She was a baptized believer and member of the New Lisbon Christian Church since the mid 1990's.
Survivors include her husband of 66 years, John Thompson, Jr.; daughter, Rita (Juan) Escalante of New Castle; sons, Greg (Brenda) Thompson of Lewisville and John Douglas Thompson of New Castle; grandchildren, Carisa (Dave) Whitefield, Cory Smith (special friend, Courtney Macha), Travis (Tiffany) Thompson, Clint (Lisa) Thompson, Caylor Escalante (special friend, Danielle Childers); six great grandchildren, Benjamin, Sydney, Rileigh, Jessa, Carter and Nathan; brother, Gale (Jeanette) Hampton of Stanford, KY; sister, Orene (Paul) Correll of Somerset, KY; several nieces and nephews.
In addition to her parents, she was preceded in death by several brothers and sisters.
Services will be at 3:00 p.m. Saturday, February 3, 2018 at New Lisbon Christian Church with Pastor Mark Lomison officiating. Burial will follow in New Lisbon Cemetery. Friends may call from 1-3 p.m. Saturday at the church. In lieu of flowers, memorial contributions may be given to the Henry County Community Foundation, PO Box 6006, New Castle, IN 47362 or Titan Children's Fund, P.O. Box 77, Spiceland, IN 47385. Arrangements have been entrusted to Hinsey-Brown Funeral Service. Condolences and memories of Gladys may be expressed at www.hinsey-brown.com.