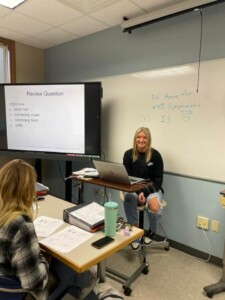 For the nursing program at the New Castle Career Center, having up-to-date equipment and industry-standard supplies is essential. The teachers value the hands-on experience for the students to help them thrive once they're in the clinical setting.
When they took inventory recently, they realized it was time for some updates and decided to start exploring options to help them reach their goals.
Director, Angie Talbott, explained, "In healthcare, it is important to have current information and statistics. The textbook we were working with was from 2011. So it was a necessity to get a new one."
As is often the case with education, acquiring the needed supplies was out of the budget.
Thankfully, the Henry County Community Foundation has a fund for that!
The Charles and Phyllis States Endowment Fund was started in 2007 by donor, Phyllis States, as a way to remember her husband, carry on his legacy, and help in the community.
The goal of the fund is to assist with replacing and updating equipment and computers at what once was called the Danielson Center but now is the nursing program of the New Castle Career Center.
The nursing program was able to use a portion of the funding available to purchase new BenQ Interactive boards, large whiteboards, electrodes for heart monitors, stop-the-bleed kits, a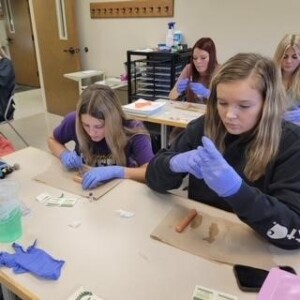 new interactive and online textbook, and much more.
The students see the value in these new additions to their classroom. Lilly Raines shared, "We have a lot of items to use. I think it benefits us to work with everything and gives us the opportunity to cover more skills. We're better prepared for clinicals because of these things."
Another student, Taylor Tutterow, now has her CNA and is in a work-based learning program at a local nursing home. She recognizes the high-quality learning experience she received through the Career Center, "The stuff that we did really prepared me for what I've seen and been able to do at the nursing home. I've helped with skin tears and sores. I'm able to help without reacting because I've been so well prepared. The Ben Q boards are very efficient. The pictures are crisper. We can zoom in on the text. What they've spent the money on is worth it because we feel so prepared."
The growing needs within our community are ever-changing. When donors give to the Foundation, they don't always know exactly what their donation will be doing, but it is vital for our community to have these resources available when needs like this arise.
We're thankful Phyllis States started this fund all those years ago. Now, thanks to her donation, students are going into the workforce better equipped and prepared to take on careers in the nursing field.