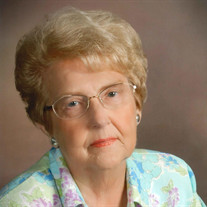 Helen Weaver, 81, a lifelong resident of New Castle passed away Tuesday, December 26, 2017 at Good Shepherd Hospice in Auburndale, FL. She was born May 23, 1936 in New Castle to the late Frank and Rosa (Gardner) Enochs.
Helen was a devoted teacher, where she taught at Wilbur Wright, Greenstreet, Hernly and Weir. She served as principal at both Hernly and Weir, and as Assistant to the Superintendent in charge of early child development programs. Helen served in the New Castle Community School system from 1958 to 1994. After retiring, her main hobby was the restoration of dolls and she became a certified "Doll Doctor." in 1997. Along with her husband John, she was a long-time, active member of the Chicago Corner Church. Helen and John loved to travel together they made many trips across the country, Alaska, the Caribbean, Europe and Russia. She loved her winter migration to Florida, every year for the last twenty years. Helen also love IU and Purdue basketball and the Indianapolis Colts. She especially enjoyed spending time with her grandchildren and great-grandchildren.
Survivors include a son, Tim (Cynthia) Weaver of Richmond, KY; grandchildren, Bryan (Jordan) Weaver of Nashville, TN and Jonathan (Darby) Weaver of Spring Hill, KS; five great grandchildren, Diesel, Charlotte, Lincoln, London and Emmitt Weaver; sister, Vera Campbell of Cambridge City; several nieces and nephews including, Suzanne Weaver, Jody (John) Younts, Jeff (Christine) Campbell, Judy (Jim)
Gerrian, Toni (Lance) Kerney, Terri (Shawn) Neil, Traci (Frank) Johnson; 17 great nieces and nephews and 14 great-great nieces and nephews.
In addition to her parents, she was preceded in death by her husband, John Robert Weaver in 2012, brother in-law, Richard Lee Weaver in 2014, sister in-law, Mary (Vanmeter) Weaver in 1997, brother in-law Jake Campbell in 2017 and niece Barbara Weaver in 2011.
Services will be held at 3:00 P.M. Friday, January 5, 2018 at Chicago Corner Church.  Visitation will be from 1:00 – 3:00 P.M. Friday at the church. Burial will follow in South Mound Cemetery West Lawn Addition. In lieu of Flowers, Memorial contributions may be given to the John and Helen Weaver Scholarship Fund at Henry County Community Foundation. Arrangements have been entrusted to Hinsey-Brown Funeral Service in New Castle. You may express condolences or share a memory of Helen at www.hinsey-brown.com.