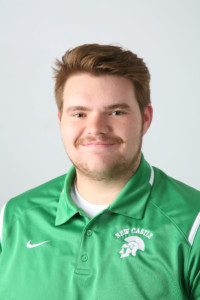 Thomas Witham, a New Castle High School senior, is the 2018 recipient of the Henry County Community Foundation Lilly Endowment Community Scholarship.  In addition to full tuition at any Indiana college, Witham will receive an annual $900 stipend for books and other required equipment.
"I can't begin to thank all of my family, friends, teachers, counselors, administrators, and coaches for helping me accomplish my goals.  I wouldn't have been able to receive this honor without their support.  It is impossible to say how thankful I am that I was able to grow up in a community that is always there to support me.  I plan on attending Franklin College in Franklin, Indiana to study Mathematics and to play football. Thanks to everybody at the Lilly Endowment and the Henry County Community Foundation for giving me this opportunity!" said Witham.
Thomas is the son of Bob and Elizabeth Witham.  He has been a football player at New Castle for 4 years, throws shot and discus on the track and field team, and is captain of both teams.  He is a member of the high school band, participating in concert, pep band, and the indoor percussion ensemble.  He has been a member of National Honor Society, serving as the group's 2017 President.  Thomas has served on T.A.S.C. (Teens About Serving the County) Youth Grants Committee since 8th grade, stepping into a leadership role this year as Vice-Chair.  He also serves New Castle High School as part of Athletic Council, PEER Group, and Renaissance, a student group that recognizes other students, faculty and staff for their accomplishments at New Castle.
The finalists for the Henry County Community Foundation 2018 Lilly Endowment Community Scholarship are Mallory Bowman, Hagerstown High School; Samantha DeLey, Shenandoah High School; Grace Muncy, Knightstown High School; Mindy Polston, Blue River Valley High School; and Kayanna Turner, Tri High School.  The five finalists will each receive one-time $1,000 scholarship awards from the Henry County Community Foundation for being chosen to represent their school.
Every graduating senior attending Blue River Valley, Hagerstown, Knightstown, New Castle, Shenandoah, Tri and Union high schools, who is also a Henry County resident, is eligible to apply for the Lilly Endowment Community Scholarship. Each high school corporation nominates one student to represent their school in the Henry County Community Foundation's scholarship selection process. After the Foundation's scholarship committee from outside the county narrows the field to one nominee and two alternates, their names are forwarded to Independent Colleges of Indiana, Inc. (ICI) for the final selection of Henry County's 2018 recipient.
ICI is a nonprofit corporation that represents 30 regionally accredited degree granting, nonprofit, private colleges and universities in the state. This scholarship is the result of a statewide Lilly Endowment initiative to 1) help Hoosier students reach higher levels of education; 2) to increase awareness of the beneficial roles Indiana community foundations can play in their communities; and 3) to encourage and support the efforts of current and past Lilly Endowment Community Scholars to engage with each other and with Indiana business, governmental, educational, nonprofit, and civic leaders to improve the quality of life in Indiana generally and in local communities throughout the state. There are 143 scholarships awarded statewide.