Howard Terrill ("Terry") Harvey, 72, of New Castle passed away Thursday, August 29, 2019 at Stonebrooke Rehabilitation Center. Terry was born October 26, 1946 in Muncie, to the late Robert and Martha (Walker) Harvey.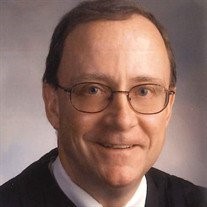 Terry grew up in Mt. Summit across the street from the school where his mother was a teacher. Growing up in Mt. Summit, Terry made many lifelong friends and developed a love for athletics, especially basketball, and reading. He was a member of the inaugural class of Blue River Valley High School in 1965. He went on to attend Wittenburg University, where he was a member of the basketball team and a 1969 graduate. Following college, he obtained his juris doctorate from Indiana University School of Law in 1974.
Terry returned to New Castle following his graduation from law school and entered private practice with his father at the firm of Millikan, Hodson and Harvey. He went on to serve as judge of Henry Superior Court II for fourteen years. Following his time on the bench, he briefly practiced law in Indianapolis.
Terry had a variety of interests. He played the banjo. He loved to travel and particularly enjoyed trips to Munich for Oktoberfest and vacations on Longboat Key, Florida. An avid reader, he would commonly finish at least one novel per week, was a favorite reading partner of his grandchildren and reveled the challenge of the Sunday New York Times cross word puzzle.
His love for athletics continued throughout his life. He coached both of his sons in youth sports, played basketball and golf. Terry was lucky enough (although he would say it was skill) to have recorded a hole in one. He is a member of the Blue River Valley High School athletic Hall of Fame.
Terry is survived by his former wife, Janet Harvey of New Castle; two sons, Joel (Kelly) Harvey of New Castle and Ben (Megan) Harvey of Indianapolis; four grandchildren, Lydia and Corrine Harvey, both of New Castle, and Baxter and Truman Harvey, both of Indianapolis; and two nieces, Gretchen Wagner and Emily (Andy) Hodson, both of Indianapolis.
In addition to his parents, he was preceded in death by a sister, Patricia Wagner, brother in law, Gerry Wagner, nephew Bob Wagner and sister in law, Susan Nelson.
Visitation will be from 2 – 4 p.m. on Sunday, September 22, 2019, at Hinsey Brown Funeral Service in New Castle, and a memorial service will be at 4:00 p.m. (immediately following visitation). Memorial contributions may be made to the Terry Harvey Memorial Fund, c/o Henry County Community Foundation, PO Box 6006, New Castle, IN 47362. You may share a memory or condolence at www.hinsey-brown.com.