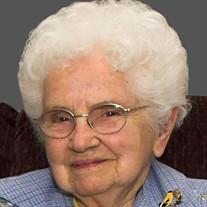 Ima Coe Wirth, 104, of New Castle, passed away peacefully on the evening of Sunday, June 10, 2018 at Glen Oaks Health Campus in New Castle.
She was born November 8, 1913 in Bath County, Kentucky, a daughter of the late John Clay Reeves and Ona (Atchison) Reeves.
Ima Coe was a 1932 graduate of Sulphur Springs High School and attended Hanover College for two years. She worked as an Insurance Underwriter for the Bob White Insurance Agency for 30 years before retiring in 1984. Ima Coe also worked at the Children's Home in Knightstown, Henry County Abstract Company, and the New Castle-Henry County Public Library. She was a homemaker and worked part-time secretarial positions prior to retiring in 1984. She was a member of Business Professional Women, Shakespeare Club, Henry County Historical Society, Henry County Community Foundation, Eastern Star, a charter member of the Diamond K. Kiwanis Club, and an active member of the First Christian Church for many years where she served as an elder.
She is survived by two children, Steven Clay Wirth (Kathleen Steffen) of Kankakee, IL and Barbara Ann (husband: Douglas) Smith of Chesterfield, VA; three granddaughters, Amy Wirth-Yap of Santa Cruz, CA, Julie Wirth of Champagne, IL, and Heather Smith Lang of Chesterfield, VA; three great-grandchildren, Ian Lang, Anneke Wirth-Yap, and Arie Wirth-Yap and several nieces and nephews.
She was preceded in death by her husband, Roy F. Wirth in 1989, six brothers and two sisters.
Funeral services will be held at 11:00 am Tuesday, June 19, 2018 at Sproles Family Funeral Home. Burial will follow in South Mound Cemetery.
The family will receive friends from 4 – 7 pm Monday at the funeral home.
There will be a light luncheon and social gathering for family and friends at 1:00 pm Tuesday at the funeral home. Please feel free to join the family even if you are unable to make the services.
Memorial contributions may be offered to the Henry County Community Foundation or the First Christian Church. You may send the family a personal condolence at www.sprolesfamilycares.com.
Click here to donate.