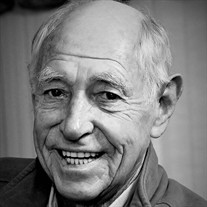 Jackie Lee "Jack-Jack" Roach passed away Tuesday, October 2, 2018. He was born June 30, 1936 in New Castle, IN as the eldest child of the late Kathleen "Kathy" Lacy Roach and Gid Roach. Jack graduated with the Class of 1954 from New Castle High School. After Jack graduated, he worked numerous jobs and then joined the Army spending time at Ft. Leonardwood, Texas and Germany. Jack retired from Borg Warner on April 30, 1990 after 37 years of service. Jack was an avid car enthusiast, once owning a 1954 Corvette in which he drag raced. Jack was the proud owner of many classic cars and was a collector of McDonald's memorabilia along with many numerous collectibles. Friends often viewed his garage as a museum. Jack spent many years with his wife, Alice, family and friends on Lake Cumberland. Jack coached American and National Little League Baseball teams in his early days.
Jack was preceded in death by his wife of 59 years, Alice Marie Keith Roach, and his baby sister, Brenda Roach Beach. Jack is survived by his children, Dana Kendall (Howard) of Indianapolis and Tony (Debbie) Roach of Springport; grandsons, Quincy Kendall of Chicago, Jacob Kendall of Indianapolis and Orie Roach of Muncie; great-grandchildren, Jackson, Addison Riley and Oliver; and nieces, nephews and many special friends and car friends.
A celebration of life Cruise-in will be held at the home of Jack and Alice, on Sunday, October 7, 2018. Guests are welcome to come and go as they wish beginning at 1:00 p.m. The family invites you to drive your classic car in honor of Jack. A meal will be provided.
In lieu of flowers, donations in honor of Jack may be made to the following; Friends of Memorial Park, c/o Joyce Jester Treasurer, 5596 N. CR 550 E. Mooreland, IN 47360, Henry County Community Foundation, Class of 1954 or New Castle Optimist Club Baseball, PO Box 6006, New Castle, IN 47362. Arrangements have been entrusted to Hinsey-Brown Funeral Service in New Castle. You may express condolences or share a memory of Jack at www.hinsey-brown.com