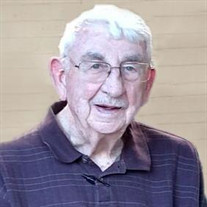 James (Jim) L. Garvin, 87, of New Castle, IN, passed away on the morning of Thursday, January 25, 2018 at The Heritage Pointe in Fort Wayne, IN surrounded by his children.
Jim was born on July 1, 1930 in New Castle, a son of the late Raymond and Opal (Bond) Garvin.
Jim was a proud veteran, serving in the Army during the 1950's where he was stationed in Germany. He was a graduate of Ball State University, receiving his Bachelors in Education while working full time. He was employed by Chrysler Corporation for 38 years before taking advantage of early retirement in the late 1980's. Through his life he was extraordinarily supportive of his children, attending sporting events, traveling to speech and debate meets, caring for them during illness or injuries and joining them on adventures such as white-water rafting, air boating, woodworking, painting and IU basketball games. During retirement Jim was active in Meals on Wheels, Habitat for Humanity and Kiwanis. He was a member of the First United Methodist of New Castle for more than 50 years where he faithfully served the church in a variety of roles.
He was preceded in death by his cherished wife, Carolyn Joan (Ballinger) Garvin. They were married February 4, 1950 and shared 64 years of love, faith, travel and time spent with family. His children especially remember and respect his devotion and care for Carolyn.
He was also preceded in death by his parents, Raymond Garvin and Opal (Bond) Garvin; a sister, Bonnie and a brother, Gerald.
Jim is survived by his three children, Stuart (Bev) Garvin of Indianapolis, Mark Garvin of Ft. Wayne and Jan Garvin of Lincoln, NE; his brother, Ron Garvin of Centerville, IN, and many cousins, nieces and nephews.
Funeral services will be held at 11:00 am, Monday, January 29, 2018 at Sproles Family Funeral Home. Burial will follow in South Mound Cemetery West Lawn Addition.
The family will receive friends from 2 – 6 pm on Sunday at the funeral home.
In lieu of flowers, memorial contributions may be made to the James and Carolyn Garvin Charitable Trust, Henry County Community Foundation.
You may send the family a personal condolence at www.sprolesfamilycares.com.
The Sproles family and staff is honored to serve the family of Jim Garvin.