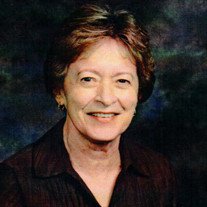 Jane Ann Baker, 75, died Saturday at home surrounded by her family.  The daughter of Robert and Garnet Showalter, she was born April 6, 1943, in Muncie. Jane was preceded in death by her parents and her husband, Bill.
Jane graduated from Royerton High School and received a Bachelor of Psychology from Earlham College. While at Earlham she met Bill Baker, and they married on June 27, 1965.
Jane was practical, thrifty, and gifted with enormous common sense.  She could quote Consumer Reports, did the research, knew the side effects, read the small print and got things done.
She loved good books, a good bridge hand and thought everything from sweaters to cars should be in earth tones.  She disliked cilantro, walnuts, and small-mindedness.
Jane was a Friend, a Quaker with an illuminating spirit which served as a beacon, and she was a friend, loyal and faithful and always dependable.  She gave her time and talent to her church The First Friends Meeting, to installing life-lines in the county, and to reading stacks of scholarship applications.
Jane was a quiet force with a wicked-good sense of humor.  When Jane spoke, people listened. She kept confidences locked away.  With great dignity, she taught the tough lessons: how to be a widow, how to wear a wig through a terminal illness, and how to end this earthly journey.
Jane was a member of the First Friends Meeting and served as its treasurer, Tri Kappa Associates, the Lilly Scholarship Committee of the Henry County Community Foundation, the Art Association of Henry County, Agenda Club, and the Bridge Biddies.
She was a loyal supporter of the New Castle-Henry County Library, the Henry County Community Foundation, the LifeLine program, and the "We the People" program of the Indiana Bar Foundation.
Survivors include: a daughter, Jill Smith (husband, Aaron), East Grand Rapids, MI; a son, Jay Baker (wife, Jody), Sullivan; grandchildren, William G. Smith and Emma Baker; step-grandchildren, Alexandria Thompson and Kayla Widing; sister, Judy Butler (husband, Jim), Blairsville, GA; brother, Dan Showalter (wife, Joan), Suttons Bay, MI; sister-in-law, Sharon Baker, Connersville; and, several nieces and nephews.
The family requests in lieu of flowers memorials be made to The Indiana Bar Foundation's "We the People" program, 615 N. Alabama St., #122, Indianapolis, IN 46204; the First Friends Meeting; or, the Henry County Community Foundation, www.henrycountycf.org.
A Celebration of Life will be held at 3 pm Tuesday, September 4, 2018, at the First Friends Meeting with Pastor Rick Schoeff officiating.  The family will greet family and friends in the lower level of the Meeting from 1:30 pm to 3 pm.
Arrangements have been entrusted to the care of Sproles Family Funeral Home. You may offer the family a personal condolence at www.sprolesfamilycares.com.