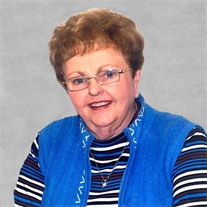 Jane E. Roberts, 81, of New Castle passed away Tuesday, May 02, 2017 at Heritage House of New Castle. She was born on December 22, 1935 in New Castle to the late Eldon and Frances "Fanny" (Cannon) Horney.
She was an employee of Chrysler Corporation in New Castle and later worked at New Castle Chrysler High School as a secretary. Jane was an avid golfer.
She is survived by son, Jeffrey (Judy) Roberts of Wichita, KS; daughter, Julie Johnson of New Castle; four grandchildren, Kiley and Conner Roberts and Carlie and Camie Johnson; two nieces, Vicki Carter and Connie Carter.
In addition to her parents she was preceded in death by her husband Arnold "Jack" Roberts in 2003.
Services will be at 10:00 a.m. Thursday, May 4, 2017 at Hinsey-Brown Funeral Service in New Castle with Rev. Tom McGilliard officiating. Burial will follow at South Mound Cemetery, West Lawn Addition. Visitation will be from 4 – 7 p.m. Wednesday, May 3rd at the Funeral Home. Memorial contributions may be sent to Henry County Community Foundation, PO Box 6006, New Castle, IN 47362 or Alzheimer's Association, 50 E. 91st St., Suite 100, Indianapolis, IN 46209-4830. You may express condolences or share a memory of Jane at www.hinsey-brown.com.