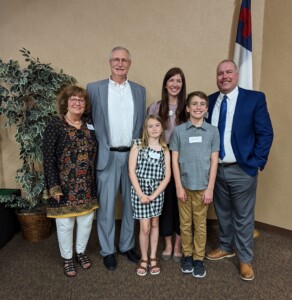 Creating good in the community takes many individuals who are willing to contribute their time, talent, and treasure.  In recognition of this dedication, the Henry County Community Foundation awarded one individual for making a difference in Henry County.
Jeff Galyen was announced as the 2022 Judy Melton Award winner because of the lives he has changed through his occupation as a lawyer and through his volunteerism. He first joined the Foundation board in the 1990s and has guided the Foundation through Lilly Endowment challenges, governance changes, and growth strategies. He has continued his time with the Foundation by serving on various committees since 1996 and by supporting the community in giving to 51 funds at HCCF that are making impacts in Henry County.
He was praised for his service to the Foundation as well as his service to other community organizations. For over 35 years, he has been a part of the Henry County Community Corrections Advisory Board. He has also spent time with the Henry County Youth Advisory Board and received the Gault Award for being an outstanding Juvenile Public Defender.
Galyen said a word of thanks and appreciation for the award and shared about his time working in the community alongside Judy Melton.
The Henry County Community Foundation is honored to continue recognizing those who go above and beyond expectation through the Judy Melton Award and is grateful for the service and commitment of recent award winner, Jeff Galyen.
Judy Melton was a past president and board member of the Henry County Community Foundation.  In addition to her service as a tireless volunteer, and with her English teacher background, she took the responsibility of producing all of the formal communications that the Foundation published.  Her dedication through her time, talent, and treasure from 1993-2005 to the Foundation is rarely duplicated.
This honor is awarded to individuals for "making a difference in Henry County, exemplifying philanthropy through time, talent and treasure" and is selected by the board of directors.   A memorial plaque with Judy's engraved picture was placed in the Foundation office to remind members of the organization that it is people like Judy – whose commitment and hard work have paved the way for our success and to recognize others who go above and beyond expectation.
Jeff Galyen joins other distinguished past award winners, Herb Bunch, Danny and Patty Danielson, Morris Edwards, Dick Myers, Rex Slick, Jim Ray, Jeff Smiley, Betts Adams, Ray Pavy, Dr. Richard Armstrong, and John Pidgeon.